Airline passenger is arrested for turning on cell phone and refusing to turn it off during landing
40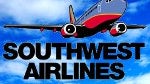 Call it a total disregard for authority or simply testing out whether it's an urban myth or something, but one
Southwest Airlines
passenger tested out the waters by doing the unthinkable during a routine landing into El Paso International Airport in Texas.
Literally at the last leg of the flight from Phoenix, the passenger in question decided to whip out and turn on their cell phone during the plane's landing approach into the airport. Of course, the man was informed to turn it off, but for some reason unknown to us all, he ignore the request. Well folks, there's nothing wrong with questioning authority, but when there are security concerns with flights, it shouldn't be taken too lightly by passengers.
For his deed, the individual was met by El Paso police authorities upon arrival at the gate, and was
arrested
soon afterwards. So what can we all learn from this? Well, it's one thing to question authority, but when someone tells you politely to turn your cell phone off, you might want to take it with great concern and not shrug it off like it's of little importance.
source:
AP
via
Textually