AdvanceTC working on a 4.8-inch Atom-powered tabletphone
2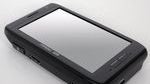 In an effort to undertake the seemingly ridiculous task of cramming your smartphone, your tablet, and your PC into a pocket-sized device, AdvanceTC is announcing its MAGIC W3 hybrid handheld. Photos of a bulky prototype are circulating the web and reveal Windows 7 running on top of some netbook-grade hardware, while some clever user interface handles GSM connectivity and wakes up the device from standby upon receiving a call. Company officials also promise up-to-date features such as 720p video playback, desktop-quality multitasking, and 3.5G download speeds.
Things look promising on paper, as under the hood of the device they have stuffed the hardware found on a modern netbook – an Intel Atom Z530 processor running at 1.6 GHz, a gig of ram, and a 32 GB SSD drive for all your storage needs. A 4.8-inch touchscreen, sporting a native resolution of 480 by 800 pixels, a 1.3 MP camera, Bluetooth, Wi-Fi, and GPS can also help drain the 3200 mAh battery of the device even further.
Does this idea seem crazy enough to be even practical? We can only wonder as the MAGIC W3 is still unavailable to the public and probably needs a lot of software polishing, but we can give them some credit for trying. Still, a note of skepticism remains in our minds as even the official website of the device looks crude and unfinished – as if it has been put together by an eighth grader. Feel free to let us know if you think such a device may have any market potential in the comments!
source:
AdvanceTC
via
Engadget