Ad revenue could have had a part to play in the decision for a large Nexus 6
15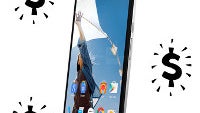 While we've had ads on our smartphones for years now, mobile has been, and continues to be, a hard nut to crack for ad networks such as Google's. Speaking to the
Wall Street Journal
at the San Franciso ad:tech conference, Google's advertising chief, Sridhar Ramaswamy, confirmed that mobile search and mobile YouTube monetization remain a top priority for the giant.
As you can imagine, mobile advertising is mostly tough because of the considerably smaller real estate available to display ads, but also because it's relatively harder (compared to a desktop computer or a laptop) to complete online orders on the small screen. This makes advertisers less willing to pay for ads on mobile. The solution? Better and smarter ways to reach and engage consumers, but also: larger displays.
"
As phones get bigger the space issue becomes less challenging,
" Ramaswamy said, whilst pulling out his Nexus 6 to show its 6-inch display. "
This is essentially a tablet. People's ability to navigate sites and fill out forms and such goes up tremendously
."
While Google is unlikely to have based its decision to produce as gigantic a Nexus phone (the previous largest device in the line was a 5-incher) solely on the fact that larger smartphones are better for its ad business, one can't help but wonder if it nevertheless was an integral part to the company's thinking. After all, Nexus smartphones have always been considered the ultimate reference Android devices, meant to show what the platform can do and shine a light on the way forward. And while the phablet category certainly had a robust following already, we can argue that Google's public acknowledgement of the form factor is not without value.
At the end of the day, for a company that realizes most of its profits through advertising, this is nothing more than business as usual.