Acer Iconia W3 gets its price slashed, now $299
6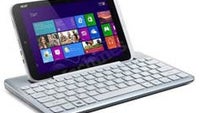 The
Acer Iconia W3
tablet hasn't really been out for that long.
Pre-orders for it began in early June
when the base 32GB version of device was offered for $380. Now – about two months after it became official –
the same Iconia W3 model can already be bought for just $299
, either from the Microsoft Store or from a third-party retailer.
This $80 discount can be interpreted in several ways: either Acer is trying to move stock faster in order to make room for an
upgraded Iconia W3 successor
, or it is just that the tablet isn't selling very well. And since the said W3 refresh has yet to be announced, our money is on the latter.
The Acer Iconia W3 was released as the first Windows 8 Pro tablet to come in a smaller package. With its 8-inch screen, the device is more compact than its 10-inch siblings, and at the same time, its dual-core Intel Atom processor should deliver adequate performance considering the tablet's price point. But the device is getting mixed reviews, which is likely putting off at least some of its potential buyers. Lots of complaints are related to the display and its underwhelming quality. Other buyers, on the other hand, appear to be satisfied with the device when its cost is taken into consideration.
So yeah, the price of the Acer Iconia W3 may be down to $299, but that doesn't necessarily make it a killer deal. To learn more about the device, check out our
Acer Iconia W3 hands-on
.