Acer Iconia W3 hands-on
6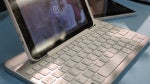 Introduction:
At the Acer booth during Pepcom's event in New York City last night, we saw something rather peculiar sitting in a keyboard dock that seemed a bit too overlarge for its comfort. Initially, we thought that it was a 7-inch tablet of some kind, but surprisingly enough, it was none other than the 8.1-incher in the
Acer Iconia W3
– running the full Windows 8 experience. So far, most of the Windows 8 slates we've seen are relatively packing along 10-inch sized displays, but this breaks things up with its smaller one. Sure, it'll appease those looking for a smaller form factor, but will there be any major compromises?
Display:
As we've detailed, it's an
8.1-inch display
on the Acer Iconia W3, which is an
LCD panel
with a screen resolution of
1280 x 800
– making it just a tad bit better than 720p. It's not the sharpest thing, but it's still effective enough to visualize mostly everything that pops up on screen. Being the LCD variety, its colors aren't as overblown in tone like its AMOLED counterparts, and at the same time, the acceptable brightness output enables us to see it indoors under artificial. However, we do notice some distortion at some extreme angles, which when combined with its mediocre brightness, it might make it tough trying to view outdoors under the presence of the sun.
Design:
For something that's employing a plastic casing, we're absolutely
surprised by the amount of weight
associated with the Acer Iconia W3 – it's deceptive to say the least, seeing that it's still compact enough to hold with a single hand. On one hand, we appreciate that it tries to emulate a metallic finish in the back, but the effect doesn't quite hold up as soon our hands come into contact with its plastic surface. Generally speaking,
the design has a cozy look
to it for some reason – being neither cutting edge or boring.
As an option, Acer is also selling a
keyboard dock
with the Iconia W3, which in addition to providing the comforts of being able to type on a physical keyboard, but it also allows us to store the tablet in it as well. Strangely though, the keyboard itself is bigger in size than the tablet, which gives it an awkward look, however, the tablet can be placed in either portrait or landscape orientations in its ridge. Beyond the over-sized look, we're happy to find a full QWERTY keyboard with chicklet style keys on it – so they're raised slightly to provide some meaningful travel with each click. For those of you wondering, this
Bluetooth keyboard
is being sold as an optional thing at
$80
.
Interface:
Running the full blown
Windows 8 Pro
experience, it has all the same features you'd find on any other larger sized Windows 8 tablet. Sure, it might be a little bit more cramped trying to do the same tasks on it, like editing photos or writing up a document, but regardless of that, it's not limited to the same potential as its larger counterparts. In terms of processing power, this small bundle of joy is packing along a
1.8GHz dual-core Intel Atom processor
with 2GB of RAM – it's not the most demanding thing, but heck, it seems like it's more than adequate for an 8-incher.
Expectations:
Out of everything, it's just nice to find that there's now an option available to consumers that want a Windows 8 tablet with a smaller sized screen. Looking at the existing lineup of Windows 8 tablets, we've seen mostly 10-inchers occupying the spectrum – so yeah, it's wonderful that you get the full Windows 8 experience with this smaller one. Flaunting a starting price point of
$380
for the base 32GB version, which can be supplemented thanks in part to its available
microSD card slot
, some will be attracted to the affordable price point of the tablet seeing that delivers the same functionality as a PC with all the bells and whistles.