AT&T Prepaid (formerly GoPhone) launches with 2 months of free service
10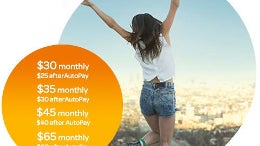 Confirming a
previous rumor
, AT&T just announced a rebranding of its GoPhone service, which, from now on, will be known as AT&T Prepaid.
In celebration of the new name, AT&T is offering two months of free wireless service to new prepaid customers. To benefit from the offer - available from July 14 through September 21 - you have to activate and keep a new line for at least 1 year, and you'll get account credit for the third and twelfth months of service. You'll also have to choose between one of these two AT&T Prepaid plans: $60 per month (includes unlimited talk, text, and data), or $40 per month (includes unlimited talk and text, and 6GB of data).
Like all prepaid services, AT&T Prepaid does not require a contract - you'll simply pay monthly as you go. In addition to the two plans that we already mentioned, AT&T also lets you choose a Prepaid plan for $30 per month, though this only includes 1 GB of data (plus unlimited talk & text).
All prices listed above are valid only after you enroll in AT&T's AutoPay savings program - registration is free, and you simply need a credit/debit card, or e-Check to join. If you don't enroll in AutoPay, each plan will cost $5 more.
Right now, the AT&T Prepaid lineup includes mostly low-end smartphones, though you can also get a few more advanced handsets like the
Apple iPhone SE
(for $244.99) or the iPhone 6 (for $344.99). More details can be found at AT&T via the source link below.

source:
AT&T