AT&T's Galaxy Note II arrives on November 9
30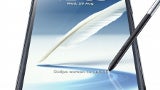 It's official! The larger than life Galaxy Note II will go on sale with AT&T starting November 9. Prior to that, pre-orders will be available from October 25 for the most impatient ones.
Customers who want to get their hands on the handset will have to pay the hefty $299.99 and put a signature on a two-year contract with the carrier.
Armed with a 1.6 GHz quad-core Exynos 4412 processor, LTE and, of course, a giant 5.5" touchscreen, the Galaxy Note II is not your typical smartphone. It's more like a very small tablet that can perform stuff like voice calls and text messages. Among its key-features is the S Pen stylus, which is tightly integrated with the software of the device. It allows you to execute a number of actions like getting a preview of video content, selecting and pasting images, as well as taking handwritten notes.
The Galaxy Note II is expected to be a success, as the predecessor of the device was sold in over 10 million units. Are you planning to get one?
AT&T Announces Samsung Galaxy Note II Available Nov. 9, Pre-Orders Begin Oct. 25

DALLAS, Oct. 23, 2012 /PRNewswire/ -- Beginning Nov. 9 customers interested in picking up a Samsung Galaxy Note® II will be able to purchase one for $299.99 with a two-year agreement in all AT&T* stores and online. Online pre-orders for this highly anticipated device are planned for Oct. 25 at www.att.com/galaxynoteii.

Announced last month, the Samsung Galaxy Note II is one of the first smartphones launching at AT&T to feature a quad-core processor. Galaxy Note II uses a 1.6 GHz quad-core Exynos™ processor with powerful graphics capabilities. The Galaxy Note II is thinner and narrower than the first Galaxy Note, and it improves upon the original with longer battery life, as well as enhancements to the S Pen™. AT&T is the only carrier to offer the original Samsung Galaxy Note™ at $199.99 with a two-year agreement.

The Galaxy Note II will run on AT&T's 4G LTE network. It will ship running Android 4.1 (Jelly Bean) on its beautiful 5.5-inch HD Super AMOLED™ display, perfect for customers who want the productivity of a tablet with the portability of a smartphone. The 8-megapixel camera allows users to easily share their photos with friends through Share Shot, while S Beam™ lets you quickly share videos, pictures, maps and more with other Galaxy Note II and Galaxy S® III devices.

AT&T customers have access to the nation's largest 4G network**, covering 275 million people. AT&T has two 4G networks that work together for customers, LTE and HSPA+ with enhanced backhaul. That means AT&T customers are able to enjoy a widespread, ultra-fast and consistent 4G experience on their compatible device as they move in and out of LTE areas. With other carriers, when you travel outside of their LTE coverage area, you may be on a much slower 3G network.

*AT&T products and services are provided or offered by subsidiaries and affiliates of AT&T Inc. under the AT&T brand and not by AT&T Inc.

** 4G speeds not available everywhere. Limited 4G LTE availability in select markets. LTE is a trademark of ETSI. Learn more at att.com/network.

Samsung, Galaxy S, Galaxy Note, Exynos, S Beam and Super AMOLED are trademarks of Samsung Electronics Co., Ltd. Battery power consumption depends on factors such as network configuration, signal strength, operating temperature, features selected, vibrate mode, backlight settings, browser use, frequency of calls and voice, data and other application usage patterns.