AT&T will soon offer smartphone plan with unlimited messaging baked in
This article contains unofficial information.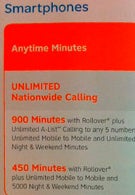 A leaked photo of an AT&T pricing brochure shows that the carrier plans on offering a "Talk, Text, Web & E-mail" plan that includes unlimited MMS and SMS. Pricing for both is an extra $20 over the smartphone only rate, which is about the same you would pay if unlimited messaging was not part of the entire package. The lower priced SMS and MMS plans will be still available at a price of $5 for 200 messages or $15 for $1500 messages. Overall, there really does not seem to be any price advantage for AT&T customers to wrap up their smartphone cost and messaging options into one single plan. The carrier appears ready to offer this new plan as soon as today and while obviously not announced yet by AT&T, it is expected that new iPhone buyers will get the option of signing up for this new plan. As for those considering a family plan, it appears that there are really no changes here, either.
source:
Engadget
via
electronista