AT&T uses Samsung Galaxy phones to test VoLTE services
14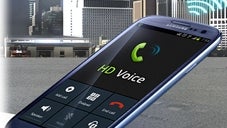 At the moment, Samsung is selling VoLTE handsets only in South Korea, where it launched the first smartphone with Voice-over-LTE in 2012 (it was a version of that year's Galaxy S III flagship). The company might start offering VoLTE devices in the US, too.
According to Korea's Yonhap News, AT&T is currently using unspecified Samsung Galaxy phones to test its own VoLTE service (which should be available to users later this year). It's not clear if the carrier is using older VoLTE-capable Galaxy handsets, or new models that are specifically made for AT&T. We also don't know if any of the test devices will be commercially available.
Voice over LTE literally means this: it sends your voice over a LTE network, not the standard GSM one, enabling features like HD Voice (which theoretically leads to clearer voice calls).
Despite the fact that AT&T seems to test VoLTE using Samsung handsets, its first official device to support VoLTE is the
Asus Padfone X
, which was announced at CES 2014 last week. AT&T did not say when the Padfone X would be released, though, and neither if it would have VoLTE at launch.
AT&T has yet to confirm exactly when it will roll out VoLTE across the US. But the carrier's plans are to make the technology widely available Stateside before the end of 2014.
source:
Yonhap News