AT&T prepping SIM cards for LTE switch
2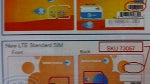 In what appears to be an internal memo from AT&T that has been leaked for all of viewing pleasure, the second largest mobile carrier in the nation is preparing their employees for the apparent arrival of LTE compatible SIM cards.
While no LTE devices may be on the visible horizon outside of an LG-made broadband card, this is definitely a start in what is shaping up to be a fun race in the 4G market. Sprint has already launched their 4G WiMax network, but with Verizon and AT&T gearing up for the arrival of LTE the competition should be thick.
The memo may have been sent out to help employees in differentiating between the LTE and the standard 3G SIM cards. These SIM cards are of standard size and will fit any device not named the iPhone 4. If you look at the back of the two SIM cards, you will see the chip is very different when compared to that of the standard 3G card.
It is said that LTE should be arriving sometime in the first half of 2011, so it only makes sense that the preparations should begin. Tell us what you think in the comments below.
source:
BGR