AT&T launches its first two LTE enabled handsets
21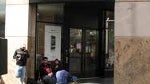 Update: There seems to be some discrepancy about the pricing of the two phones. While the AT&T web site shows the pricing of the phones at $249.99 for the Samsung Galaxy S II Skyrocket and $199.99 for the HTC Vivid-both after a signed 2-year pact, there are some reports that the phones are being offered for $100 cheaper. An AT&T store in New York City told us that they are selling the phones for $100 less than the prices listed below.
AT&T customers have been waiting a long time for the carrier to have its first LTE smartphones available. The only problem is that right now, the carrier
has just 9 cities blanketed with LTE service
. Starting this morning, AT&T subscribers in Atlanta, Chicago, Dallas, Houston, San Antonio, Boston, Washington, D.C., Baltimore and Athens, Ga. are all able to use the fastest network that AT&T has to offer at no extra cost. Of course, they will have to upgrade to
one of the two new phones
rolling out today.
At 4.5 inches, the
Samsung Galaxy S II Skyrocket
offers up a larger screen than the 4.3 inch display on the AT&T branded Samsung Galaxy S II, although the Super AMOLED Plus screen retains the WVGA resolution of the latter. A dual-core 1.5GHz processor is under the hood with 1 GB of RAM aboard. 16GB of native storage can be expanded using a microSD card. Pictures can be handled with the 8MP rear camera that captures video at 1080p and the front-facing 2MP camera for video chats and self-portraits. Android 2.3.5 runs the show. According to AT&T's web site, the device is priced at $249.99 with a signed 2-year contract and $599.99 off-contract.
If the Samsung Galaxy S II Skyrocket doesn't do it for you, AT&T also is launching the
HTC Vivid
. The device also is equipped with a 4.5 inch display, like the Samsung Galaxy S II Skyrocket, but is Super-LCD and has qHD resolution. A dual-core 1.2GHz Qualcomm APQ8060 processor is driving the phone, which has 1GB of RAM and 16GB of native storage. You can expand your storage by using a microSD card. The 8MP camera on back captures 1080p video at 60fps for smoother playback. If you are interested in video chat, there is a 1.3MP camera on the front. Android 2.3.4 is pre-installed. The HTC Vivid is $199.99 with a signed 2-year contract, or $549.99 off-contract.
Any journey begins with the first steps, and for AT&T its LTE journey begins today with the release of these two LTE enabled smartphones. By the end of the year, AT&T expects its LTE network to cover
70 million people and be in 15 markets
.
source: AT&T