AT&T and T-Mobile apply for $1B spectrum transfer with FCC
15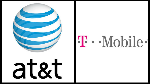 It was expected to happen, because it was part of the breakup agreement between AT&T and Deutsche Telekom in the event that the deal to acquire T-Mobile
went sour
, but AT&T and T-Mobile have now officially filed to transfer $1 billion worth of spectrum from AT&T to T-Mobile USA.
The application will transfer AWS spectrum from AT&T to T-Mobile, which would effectively extend the T-Mobile 3G coverage quite a bit. The paperwork has been submitted to the FCC and, not surprisingly, T-Mobile is hoping to see the FCC approve the application as soon as possible.
As any T-Mobile customer can attest, 3G coverage is quite spotty once you get too far from a metropolitan area, so with luck this deal will help cover those gaps. This transfer of spectrum will be accompanied by a $3 billion breakup fee that AT&T also agreed to pay Deutsche Telekom in the even the acquisition deal fell through.
source:
WSJ
via
BGR