AT&T Tilt II out of stock already in all stores?
This article contains unofficial information.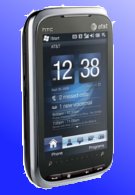 Consumers are really taking a grasp on how well the HTC Touch Pro2 variants have been selling; specifically the one for Verizon. Since its release at a mind numbing price of $199 on a two year contract, they've been consistently selling out stock online. Now the same is happening for the AT&T Tilt II – which is the first out of all the US versions to come with Windows Mobile 6.5. It's being reported that all stores sold out all stock of the popular smartphone. Taking a quick glance at AT&T's web site reveals that the Tilt II is still available for purchase, but we're unsure if that'll last long. Rumors are pointing to October 24 at the earliest before stores are replenished with units – so we suggest to grab yours online if you really need it. The most interesting part about all this is that the Tilt II is going for $299.99 after rebates on a two year contract - $100 more than the price Verizon is offering. We're going out on a limb here, but maybe just having the latest edition of Windows packed on might sway some to pay the amount? Or maybe it's just that people are willing to pay a premium amount for it? In either case, it's quite clear that HTC has a hit with it all.
HTC Touch Pro 2 Specifications
(AT&T)
via
Fuze Mobility