AT&T BlackBerry Bold still in testing, according to RIM
37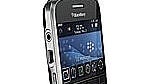 In the intense news surrounding the launch of the BlackBerry Bold on AT&T, RIM wants everyone to be absolutely sure that they're not the culprit. RIM co-CEO Mike Lazaridis said Thursday that the phone is still in the test phase with AT&T, and hinted that they wanted to spend additional time to test it, primarily to ensure that it doesn't face the same problems that the iPhone 3G did. Though the phone is available in certain markets, it is not yet available in the United States.
Lazaridis, in a statement to The Associated Press, explained AT&T's testing process. "There's great scrutiny, as you might know, on that network and a certain device. So I guess everyone wants to be sure on every last test." In an additional statement, he said that he wasn't concerned about any launch difficulties. "We're very meticulous about what our product does," he said.
AT&T, as usual, didn't say much. Company spokesman Mark Siegel would not confirm that the Bold was still in testing, but would only confirm that it would come out this year.
Source:
Yahoo Finance
via
BGR
Recommended Stories