ARM teases Huawei Ascend P6S, promises 'smooth gaming' from its Mali-450 graphics
16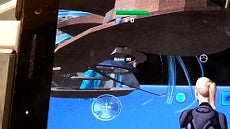 Yesterday we learned
ARM execs had a meeting with Samsung
to put the final touches on its 64-bit Exynos chipset, and today the ARM-related news from the SIGGRAPH ASIA 2013 expo keep pouring.
ARM itself posted on its Weibo account a picture of the elusive
Huawei Ascend P6S
, an heir to one of the world's thinnest and most premium Android phone builds, which will sport a new processor.
Just like Samsung, Huawei makes its own mobile processors, under the HiSilicon brand, and the Ascend P6 sports its K3V2E variety - a quad-core ARM Cortex-A9 processor fabricated at 40nm, that uses a rather puny 16-core Vivante GC4000 GPU. For the Ascend P6S, however, Huawei is using a brand new setup, called Kirin 910 - again a quad-core ARM Cortex-A9 endeavor, but with a much faster Mali-450 graphics processor.
Not that it will be of the graphics ranks put forward by Snapdragon 800 or Apple's A7, but the chipset will be a great improvement over the current silicon Huawei uses for its flagships, and, most importantly, its compatibility with games and bechmarks will be much better. In fact, ARM touts a "
perfectly smooth gaming experience
" from the Ascend P6S in the leaked picture.
Recommended Stories