ARM reports another profitable quarter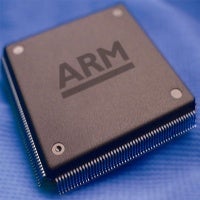 With smartphone sales growing at a steady pace, it's no surprise that
ARM dominating the mobile chip industry
, is reporting yet another great quarter with both revenues and profits on the rise. The UK-based chip designer posted $209.4 million in revenue in Q1 2012, up by 13% year-on-year.
At the same time, pre-tax profits stood at the very healthy $100 million, a surge of 22% on the year. And ARM is only expecting to see its profits and revenue continue growing in the second quarter of 2012. Q2 Revenue should grow by another 13%, and licensing will see a rise of 27%.
The growth comes from the growth in the number of chip licenses ARM sells. Actually, the number of chips for smartphones and tablets has remained flat at 1.1 billion over the period, but chip shipments for other consumer devices increased.
The UK firm has licensed 22 processors in its various markets. ARM has also scored 10 license deals for its low-power Cortex-M design. The Cortex-M0+ will also eventually arrive on devices, but the company isn't giving away any specifics.