A look at HTC's rise to recognition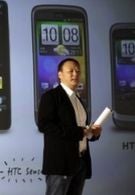 HTC has now manufactured such popular devices as the
HD2
, the
Nexus One
, and
EVO 4G
. But only three years ago, HTC was a virtually unrecognizable brand. In addition to advertising, HTC's street cred has come from their partnership with Google. By manufacturing the Nexus One, HTC aligned itself with Android, the primary competitor to the iPhone. The Taiwanese company now enjoys solid footing, selling
5.4
million phones in the second quarter of this year to Apple's 8.4 million.
Their success has been partially due to their oppositional stance to the iPhone, exemplified by their slogan: 'Quietly Brilliant'. Responding to the criticism that Apple's marketing and exclusivity give an impression of arrogance, HTC has made every effort to exude humility and adaptability. Their lineup consists of a wide variety of devices, in order to cater to a wide variety of customers. "This is a contrast to a company that wants you to do one phone only and say, 'This is the one and you are going to love it and if you don't, there is something wrong with you,'" said HTC's chief marketing officer John Wang.
While HTC's brand recognition has risen from 1 in 10 to 4 in 10, the company says that it doesn't want to praise themselves too loudly. Instead, the company wants to maintain their humility and good relationship with wireless carriers, continuing to provide a diverse device lineup without stepping on any toes.
source: Associated Press via
Yahoo!