A living Live Tile experiment, sort of…
6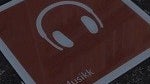 You are out on the town, walking home from dinner, or perhaps you decided to go out and grab a hot-dog (people do that right?). Now that we have set the mood, let us examine Live Tiles. Live Tiles are what sets apart Windows 8 and Windows Phone 8 from its competition. The user experience is unique and when you select a tile, the experience is that things open up before you.
Well, that is just the set-up portrayed in this newest marketing installment by Microsoft in Norway. Dubbed the "Live Tiles Experiment," a faux building front is fabricated and designed to collapse around the "unsuspecting" individual that passes by and notices the "Live Tile" in the middle of the street. What would draw them to that tile? Well, music of course! Norwegian band Datarock is jamming inside this building, the silhouettes of partiers are dancing to the tunes and someone on the outside sees this tile.
When the passer-by steps on it (selecting it), the wall drops, dancers join in for a party, and then everyone is on their way. It is too bad that even in Norway, we suspect the environment is too litigious to actually have pulled this off with truly unsuspecting players. Or, if they did, it would be entertaining to see the out-take reel of people that did not manage to stay on the tile for fear of the building falling on them.
Nonetheless, it does convey the notion of what Microsoft wants you to get out of Live Tiles for Windows 8 and by extension, Windows Phone 8. Check out the video below and watch where you are walking.
source:
Microsoft Norge
(YouTube) via
PSFK