A drop of water adds macro depth to your iPhone's camera
19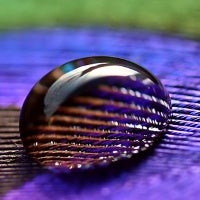 The iPhone 4S has an amazing camera. You probably know this already - that should have been one of the reasons for you upgrading or buying the handset in the first place, but when it comes to macro photographs it could use a little boost to become even better. Alex Wild of the Scientific American proposes the simplest solution to excellent
macro shots on the iPhone
- put a droplet of water or similar liquid on the camera and shoot the picture through it.
The trick is of course to keep the droplet in the right place, so you'd need to carefully turn the handset around. Of course, this will work with other handsets, but with one important consideration. The iPhone's camera is surrounded by glass so the water can't get in the phone, but on other handset there's the possibility of leaking water inside your device which could fatally damage it. So, use it with caution.
Overall, the pictures look stunning.
"Dreamy, blurred at the periphery, and just a little bit…wet,"
that's the effect you get in Wild's words. Here's two more tips for making the best out of your experiments:
Larger, rounder droplets lead to higher magnification, and as the droplet evaporates and shrinks magnification decreases.
The liquid lens is jiggly and sensitive to vibrations. The phone should be placed on a stable platform for maximum clarity.
Let us know whether you've tried this and how it worked for you - do you have any images to show off? Let us know in the comments below.