A close look at all 5 cases currently available for the OnePlus 3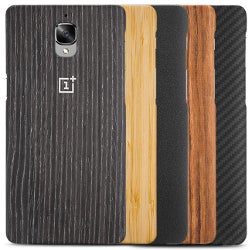 As you probably well know, OnePlus does like to build various cases for its own devices, providing not only protection, but different style finishes for the handsets. The company may have launched the
OnePlus 3
just recently, but it did make sure that you will have a choice of different protectors to pick from. And, since
we did get them
, we can take a closer look for you as well.
The different finishes consist of three wood choices — Bamboo, Rosewood, and Black Apricot — and two black finishes in different textures — the never-out-of-style Carbon Fiber and classic OnePlus Sandstone anti-slip finish. We put each of them on the
OnePlus 3
in the video below and check out how they look!