9 beautiful phones from the past (2000-2007) that we wouldn't mind being seen with today
34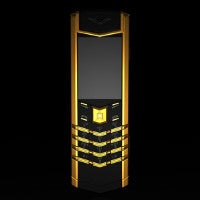 As the industry entered maturity a few years ago, so did we arrive at a winning form factor. Unlike in the past, today smartphones are generally very similar in terms of their overall looks and shape, with relatively little variance. This isn't to say that companies like Apple and HTC, for example, aren't crafting some really unique and great-looking devices, but the current status-quo is definitely a far-cry from the phone industry heydays of wonder.
Back in the day, a phone could be candybar-shaped, a "flip", a "clam", or a "QWERTY". Sizes varied just as wildly, not to mention that emphasis was put on compactness, which is the very opposite of what we're seeing today. This much creative freedom led to the conception of some truly amazing-looking devices, some of which, to our surprise, still look absolutely tempting today. So we decided to look back, and chose between phones released within the 2000-2007 window, and then picked our favorites for you to see. Take a look!
Vertu Signature S
Released in 2007, the Vertu Signature S looks just as dazzling as it did the day it was put on the market. Known for its luxurious takes on phones, Vertu really outdid itself with the Signature S, and this 8.4 oz (238 g) piece of tech definitely deserves a place in the annals of phone design history.
Mobiado 350PRL
The Mobiado Grand 350PRL was the manufacturer's first QWERTY phone and closely resembled the Nokia E71's form. The Grand 350PRL added some quite expensive materials to the build, such as machined aircraft metal and black nickel. They keys are made out of sapphire crystal and stainless steel, and so is the back. Fancy!
Nokia 8800 Sirocco Edition
Named after powerful desert wind (even hurricane!), the Nokia 8800 Sirocco Edition, released in 2006, is one dashing phone. Among the hardware highlights there were the likes of sapphire coating for the 262k color display, stainless steel polish for the surfaces, and a 2-megapixel camera.
BenQ A520
It's more likely that you know BenQ for its monitors, not phones, but back in 2005, it released the dashing A520. A tri-band GSM phone, the A520 featured dual 65k color OLED displays, a built-in VGA (640 x 480) camera, 2MB of storage, and WAP 2.0-compatible browser.
Samsung SGH-E910
Samsung's SGH-E910 was quite unique, even back in the weird wild-west-like days of the phone industry, and we attribute that to the company's collaboration with Bang & Olufsen. The phone has a 262k display, a VGA (640 x 480) camera, support for internet browsing, a circular keypad, and the ability to rotate at 180-degrees.
Vertu Ascent
Another classic, the original Vertu Ascent was so popular that the company felt compelled to come out with at least 5 other variations of the design. We've got the Ascent TI, the Ascent 2010, Ascent Ferrari GT, and many more, all of which draw inspiration from this beautiful piece of design work.
Siemens SX1
We can't say that design was Siemens strongest suite back in the day, but we definitely ended up loving the SX1. It may not look like much by today's standards, but back then (the distant 2003), we considered it a groundbreaking device.
Motorola RAZR V3
The original Motorola RAZR phone, the V3 deserved every bit of its name. At 0.5-inches thick, it was among the most stylish devices available on the market, and this led to widespread adoption. Motorola answered demand with a number of subsequent variants of the original.
Nokia 2651 / 2650
Back in 2004, the Nokia 2650 (2651 in the US) was considered an entry-level model, but its well thought-out design made it a compelling choice nevertheless.