7 Android and iOS apps to help you have a better trip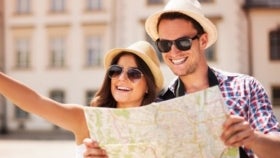 No matter if you travel for work, or for pleasure, sometimes it can feel overwhelming. All the planning, reservations and things to consider before and during your travels can take a part of the fun away. So, in case you're looking for some help with your travel plans, you're not alone.
In fact, with some of us hitting the floor at MWC in Barcelona soon, we couldn't help but to wonder what would be the best apps to use when planning a trip. So, here are seven helpful apps to help you have a better time on your business or pleasure trip.
City Sightseeing apps
One of the leading Hop-on Hop-off tour bus providers in the world, Worldwide City Sightseeing, currently operates in 36 countries across six continents. The company has one of the biggest network of buses and allows you to purchase a 24-hour ticket to get on and off their buses as you please.
Best thing is that the company has an app for most of its destinations, in which you can track its busses and boats, purchase a ticket directly, and see all the stops you can get on and off at, complete with a schedule.
So, if you're planning to use the Worldwide City Sightseeing service, its app is essential for you to have a good time and plan your touring accordingly.
TripIt: Travel Organizer
In case you're not too keen to keep your travel plans scattered across a variety of apps, notebooks, scraps of paper, or just in your head, you should definitely consider TripIt: Travel Organizer.
This app lets you aggregate all your travel info in one neat little package. This includes flights, hotel reservations, car rentals, and whatnot. It even features an integration with a number of ticket retailers, so you can save the date and time of the special event you actually set off for.
The paid Pro version of the app adds a number of other benefits for frequent fliers, such as real-time notifications about your flight, alternate flights you can take, notifications for better seats being available and many more.
And all this can be shared with your loved ones. This means that your significant other will not have to call you five times a day, just to make sure you're safe.
TripAdvisor
Even if you're going on a business trip, you will want to unwind at the end of the day. And if you're actually traveling for pleasure, you need to know the best places to go. And in case you've been living under a rock, let us introduce you to TripAdvisor.
TripAdvisor is your best friend when looking for a place to have a drink, a park to take a stroll in, or even some activities to entertain you throughout the day. The app features user reviews for just about any place imaginable, and can be a great way to find a hidden diamond in the rough of an attraction.
LiveTrekker
In case you want to keep a travel journal, but you're not too keen on spending ages on writing one, you can make your phone generate it for you. This is exactly what LiveTrekker does.
The app can record your trip routes, complete with any multimedia you take. It then presents it all in one place, showing where exactly you went, what photos you took on the way (and where), and various other info. You can then share it with those you care about, or just save it for yourself and review it whenever you wish.
The trips that you can record with the app can't last for more than a day or two, but you can record several of them and group them together for those longer travels.
LoungeBuddy
Depending on a variety of factors, you could be eligible to enter one of the many luxurious airport lounges around the world. And even if you're not, you can always pay to enter one. After all, who wants to wait on some crude bench for five hours, instead of relaxing in a nice leather armchair?
LoungeBuddy will be your guide in the weird world of airport lounge restrictions. You just feed it some basic info, such as where you're traveling to, what types of credit cards you own, privilege status with airline companies, and so on. Then it will provide you with a list of lounges you can access, both free and paid, for you to choose. Simple as that.
The app also features user reviews for most of the lounges, so you can easily make your informed choice where you want to spend the next few hours of waiting between flights.
XE Currency
When you travel a lot, it's normal to get lost in all the different currencies around the world. Was one yen 112 dollars, or the other way around? You will no longer have to guess when data and Wi-Fi are unavailable.
XE Currency comes to the rescue. It's the official app behind one of the most trusted currency converting websites in the world and, unlike Google, it works offline too by accessing stored data from when you were last connected to the Internet.
Despite sounding quite simple, this app can really help you in a pinch. Especially with so many tourists getting scammed with horrible exchange rates on daily basis.
PackPoint
Let's face it – you will forget something while packing, that's a given. Not if you use PackPoint, though. This neat little app generates a complete packing list for you, based on the location you will be going to, the duration of stay and the activities you'll be taking part in. And in case PackPoint failed to add something to the list or added something extra, you can always edit it.