56% of survey respondents say they plan on getting an iPhone, Samsung next in line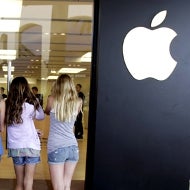 ChangeWave Research did its quarterly survey of 4, 413 respondents with one simple question - if they plan on buying a smartphone in the next 90 days, what will they get - and the results for March reveal that Apple's iPhone demand is still going strong.
About 56% of those who plan on replacing their phones in the next three months said they are going to get an iPhone, which is the second highest percentage on the research company's record, and shows Apple doesn't have much to worry about in Q2.
Next in line were the people who wanted a Samsung handset, then Motorola, HTC and a BlackBerry. ChangeWave even made handy little charts showing the respondents brand distribution, as well as the demise of BlackBerry phones' demand.
We wonder how these results might change in the months after the
Samsung Galaxy S III
announcement, and before Apple has started selling the next iPhone version.