5.5 inch "Apple iPhone 6L" to sport a 2915mAh battery; 4.7 inch iPhone 6 to carry an 1810mAh cell
82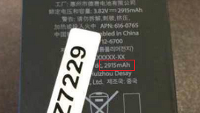 Some more information about the upcoming 4.7 inch and 5.5 inch
Apple iPhone 6
variants was revealed on Friday. First of all, thanks to pictures purportedly showing the batteries for both models, the cell on the 4.7 inch unit will be 1810mAh. The battery for the larger 5.5 inch iPhone 6 shows a capacity of 2915mAh. The more power-laden cell for the phablet is not a surprise, considering that larger screens require more energy to run.
The smaller, 1810mAh battery had been leaked last month
, but this is the first time that we have had an idea about the capacity of the cell for the iPhone phablet.
The word out of Taiwan is that the 4.7 inch version of the handset will be called the Apple iPhone 6, while the larger model will be known as the Apple iPhone 6L. This contradicts a story from earlier Friday, that credited upset Apple executives with the notion that
the iPhone 6 moniker would not be used for the new phones
.
New pictures leaked on Friday also show off the logic board for both models, and the display panels for both iPhone versions. A close up of the iPhone phablet shows a more rounded corner than what is seen on the 4.7 inch unit. Check out all of the leaked photos by checking on the slideshow below.
source:
AppleDaily.com.tw
(translated) via
9to5Mac