5.1-inch Meizu MX3 now official, comes with 128GB of storage, Exynos 5410 Octa and 2GB of RAM
25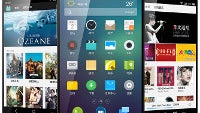 TheMeizu MX3 that we first told you about over a month ago has justgotten its veil officially lifted, and there's no mistaking that theChinese company's new flagship was designed to impress. One of thefew contenders for the first-128GB-smartphone-to-market title, theMeizu MX3 has the whole package both in terms of hardware andsoftware.
Make no mistake -- the MeizuMX3's 128GB option is far from the only strong selling point – thecompany's flagship flaunts some (still) impressive internals at anappealing price point. To put this into perspective, the 5.1-incherfeatures a rather odd 1800x1080 415ppi IPS display and is powered bythe same Exynos 5410 Octa SoC that is present with the i9500 versionof the Samsung Galaxy S4. Do keep in mind that although the Exynos5410 does feature eight cores, the chipset can only make use of four ofthose at any one time – the chipset switches between the two setsof four 1.6GHz Cortex-A15/1.2GHz Cortex-A7 cores depending on theworkload. Helping with graphic endeavors, we have a tri-core PowerVRSGX544 MP3 GPU taking the rains, alongside 2GB of RAM. For all thecomputing muscle the MX3 brings, it may leave someof the trigger-happy photography nuts among you disappointed – the rumored 13MPshooter at the back has been replaced by a more conservative 8MP Sonysensor and a 2MP front shooter. It's not all bad though – thesapphire glass-protected lens at the back features an f/2.0 aperture, along with a Fujitsu ISP on the software side. Powering theentire show? A 2400 mAh Sony-made battery on the hardware side, withMeizu's Flyme 3.0 custom flavored Android 4.2 making sense of it all.
Taking a stepaway from the usual check list, Meizu has also snugged a Wolfsonaudio chip, which offers a range of goodies like ambient noisecancellation and audio amplifiers, among others. Another notableinternal is a patented antenna tech which the company touts is vastlysuperior to the one found on the iPhone 5, for example, providing asignificantly improved reception. Speaking of antennas, the MX3 will,fortunately, work for western markets too – the device will also come in a WCDMA version.
It's worth notingthat the device has undergone some cosmetic changes at the rear sincewelast saw the device, and now features a LED flash above thecamera lens as opposed to under it. It's also slightly thicker thanexpected, at 139.9x71.9x9.1mm and 5.04 oz. (143g). Release date hasbeen slated for sometime mid September, with pricing ranging fromCNY2,499 (around $410) for the 16GB model, all the way up to CNY3,999(or about $650) for the spacious 128GB version.
Source: Meizu via MyDrivers