5 types of apps that ARKit will forever change for iOS users
8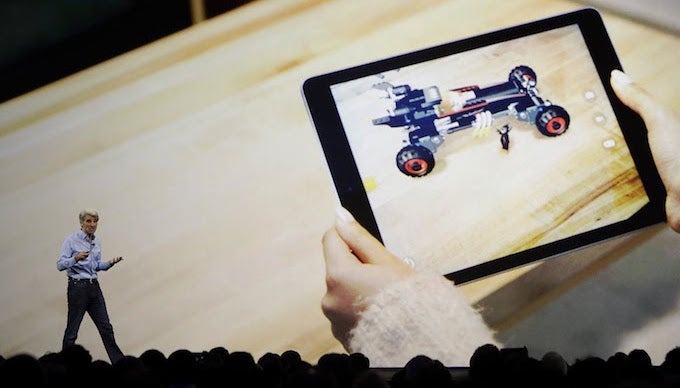 Augmented reality experiences are something that generations of humans have only looked at as unattainable and unreal. However, AR is aggressively edging closer to becoming functional and stable enough to be available in the mainstream.
Apple announced
iOS 11
and ARKit earlier this month, giving a nod to all rumours and expectations that the company is looking to slam-enter the AR arena. ARKit is a platform for developing AR apps that use your device's sensors to understand and track your environment, offering you realistic AR superimpositions in real-world scenes.
iOS and ARKit have been in beta
only for a few weeks, but developers have already unleashed an array of videos, showing off their impressive creations. What we have seen so far, is beyond exciting and really makes us think of what will unfold in the field over the next two years.
So, here is our take on five common types of mobile apps that are bound to receive complete makeovers, once AR kicks off for Apple in the next iOS this autumn.
Gaming
Of course, we will start with gaming.
Blending the world of games with the real world has never been as realistic as it promises to become in iOS 11.
The video below shows a gameplay clip of a possible Minecraft AR version, superimposed onto real environment, in realistic proportions. The game would make it possible to build a giant virtual fortress in the middle of your backyard, for example, or have fun destroying stuff, needing no external hardware to get a snapshot of your environment. Since you actually have to walk around your 'buildings' and not just swipe them around on your screen, the game looks a lot more interactive and engaging in the video.
On a separate note, we saw clips of an updated ARKit-supported version of Pokemon Go during WWDC this month. Animations and graphics appeared a lot more realistic and in scale with surrounding environment, as Pokemons no longer hang aimlessly mid-air and out of proportion.


DIY
Most mobile DIY apps are plain boring at the moment. A big part of them are crammed with tons of details about how to build stuff, but none of them is actually there in the process with you, assisting you, rather than telling you what to do.
What we have seen of ARKit creations in this category is quite impressive. Two recently uploaded videos basically show us the future of measuring distances, using nothing but your phone's camera and screen. As you can see in the videos below, the ARKit feature allows you to drop a hologram measuring tape on a surface, and run your camera along the surface you need to measure, while giving you accurate feedback on the virtual tape. Alternatively, you could drop virtual pins on a real-life surface and get a reading of the distance between them.


Virtual travel/tours
Virtual travel has been a hot topic, pretty much ever since we started hearing about AR more often. The theme is popular among lovers of trippy experiences, but is actually a discussion of high importance among disabled people groups, as well as mental health groups.
A couple of recently unveiled videos of ARKit apps illustrate what we might expect in the category of virtual tours.
The first video shows a grid being projected onto a surface, with a 3D rendering of Van Gogh's room superimposed onto the real surface, on top of the grid, as if it were really there. The hologram remains remarkably stable and crisp as the camera moves towards and away from the surface, offering quite a bit of detail. Imagine projecting the entire Museum of Natural History into your living room and taking a walk in its halls, while actually walking around the house.
If you have problems picturing the building of the museum as an AR hologram, use the video below as assistance. The tech has potential to send immobilized or vulnerable patients into a whole new chapter of their lives, allowing them to explore virtually anything, and in great detail, without having to move anywhere.
Drawing and Sketching
App marketplaces have been flooded by a spectacular amount of free and paid drawing and sketching apps. Most of them replicate features and functions you would find on desktop versions, and do not essentially change your experience with such an app.
Well, Apple customers are in for a treat in this department as well, because we have seen some ultra-cool clips of 3D hologram drawings against real-life scenes.
Being able to draw in 3D can lead to brand new types of expression, art and… selfies.
The video below shows a preview of a 3D ARKit drawing feature that allows you to do just that, and automatically throws you into daydreaming of what you would create, once you have got hold of an AR-enabled iOS device. Instead of drawing like you would on an iPad's screen, ARKit would enable you to fill your room with drawings, texts or shapes that you design with the wave your hand.
Pure fun
Over the years, for many people, fun on mobile devices has been reduced to sending weird stickers or emojis, or playing games on the common 2D screen. Of course, that's a very rough generalized statement, as there are tons of complex and entertaining apps out there, but when we compare the current state of 'mobile fun' with some videos of what AR will bring to mobile tech, we can safely conclude that it is long due an upgrade.
What ARKit will bring Apple customers, in terms of fun and engaging entertainment, is something only one's imagination puts limits to. From being able to observe the first moon landing as a hologram in your kitchen, or fill the room with floating characters to keep you company, to projecting 3D planes in your backyard – the opportunities are insane.
Sending 'catstronauts' to levitate across the room? Sure, why not!
This video illustrates ARKit's capability to process and project even large-scale items onto real surfaces. We reckon you could eventually summon a whole library of such objects to explore and marvel at.


Final words
AR is making its way right into our very pockets, kicking off a whole new era of features and experiences we can have through our smartphones. Tech giants, such as Google, Facebook and Samsung have been working on AR-enabled products for some time now. Apple also unveiled in the beginning of June what it's prepping in the short-term, as far as its AR game is concerned, and kicked off ARKit for developers. What we have seen from said developers in those few weeks the platform has been live for, is nothing short of inspiring and exciting. AR holds massive potential in the mobile industry and Apple seems to be on a good track to offer its customers new and unique features, never before seen on a mobile device. Whether it all works as smoothly and nicely, as the videos suggest, we shall wait a couple more months to find out.