$400 Family Switcher Offer for Sprint coming on January 18, leaked document reveals
9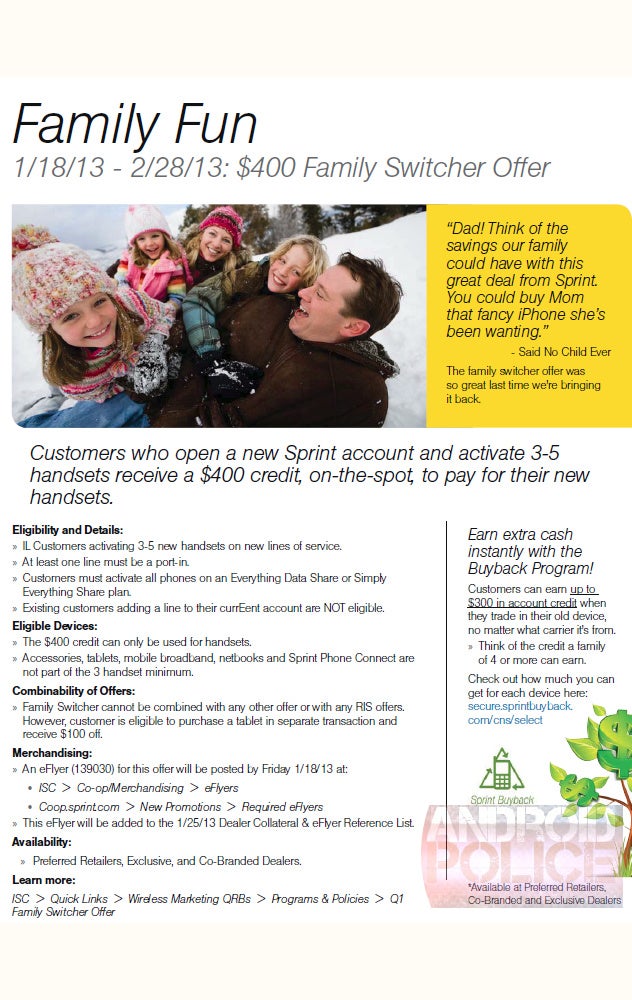 Well, well, look what we have here! It looks like Sprint is about to announce a tempting deal in effort to lure in some customers over from competitor carriers. The Family Switcher Offer, as it is being referred to, gives $400 worth of credit towards the purchase of Sprint phones, and eligible for the deal are families who wish to transfer their accounts.
According to what is said on the leaked document, families interested in the deal need to activate 3 to 5 new lines of service, out of which at least one must be ported in from another carrier. Also, the $400 credit can be used for buying phones only – tablets, mobile hotspots and accessories don't count. However, one may still choose to purchase a tablet separately at $100 off, in case they really want one badly. Regardless of what phone customers choose to get with their $400, it must be activated on an Everything Share or Simply Everything Share plan.
The $400 Family Switcher Offer is scheduled to launch on January 18, so an official announcement should not be far off. For further details, feel free to inspect the leaked document yourself.