4 iOS/Android fighting games that are times better than Mortal Kombat X
11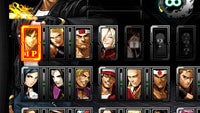 Mortal Kombat X, the latest installment in the classic game series, is now available on both iOS and Android. Don't pop the champagne yet - it's nothing like the classic Mortal Kombat games we've once played and had fun with. This card-based "fighting" game indeed comes with fancy graphics, but the gameplay is as disappointingly out of sync with the roots of the legendary game series.
If Mortal Kombat has evoked dear memories of old-school fighting 1vs1 battling, then MK X will probably embitter you. Fortunately, there is a host of mobile games that will serve fans of the genre way better than the new Mortal Kombat. Certainly, they are a bit lacking in the graphics department, but they are superior in terms of gameplay, which is more important at the end of the day. This is among the reasons why we decided to share our four absolutely favorite fighting games with you. Check them out right below.
Bandai Namco's SOULCALIBUR is certainly among the more popular and recognizable fighting titles. The classic title also found its way to mobile devices (first on iOS, then on Android). SOULCALIBUR is a fighting game that pits various characters against each other in a weapon-based combat. The game features 19 playable characters, each one armed with a different, often ridiculously big, cartoony blade or similar cold weapon, used to wreck havoc upon the enemy in a bloody 3D duel.
The King Of Fighters 2012
Hands-down one of the best fighting games you can treat yourself to, The King Of Fighters is an almost perfect port of the classic fighting game for mobile devices. It doesn't come with the tap/swipe mumbo-jumbo of Mortal Kombat X; on the contrary, The King Of Fighters is a game that will certainly remind you of the golden age of gaming. Considering that the game is free, you have zero reasons to not play it.
Admit it, you've sketched stick figures at least once in your childhood! What's more, you've probably devised gory battles between these hand-drawn characters. Ultimate Stick Fight is a game that will allow you to get involved in funny and action-packed fights. Well, it's not strictly a 1v1 fighting game, but should keep you entertained for a long time.
Real Steel
While its graphics are nothing to write home about, Real Steel is a game that actually allows you to move your character around with a virtual pad and throw different types of punches and jabs over your robot opponents. You step in the shoes of a giant fighting robot in a game that is tie-in to the eponymous blockbuster with Hugh Jackman in the leading role.