31% of smartphone owners in the U.K., don't give a hoot about apps
32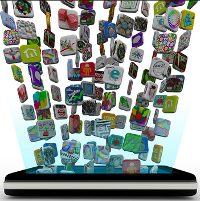 According to a new report by accounting firm Deloitte, 31% of smartphone owners in the U.K., go through an entire month without installing any apps. That is a pretty huge increase from last year's numbers. In 2013, that figure was under 20%. That means that the number of U.K. based smartphone owners refraining from downloading apps on their handsets, has increased by 50% from 2013 to 2014.
Even more depressing for developers, those who do visit the app stores are downloading fewer games and apps. The average number of apps installed each month in the U.K., has declined from 2.32 to 1.82. Can things get any worse? You bet they can. A whopping 9 out of 10 U.K. smartphone owners do not spend money on apps, or on any other content. But some of the numbers are skewed because of the increasing number of smartphone owners in their 50's, who are less inclined to use their smartphone for much more than making and taking calls, and for sending and receiving text messages.
"The 'if in doubt download it' attitude to consumer apps is clearly on the decline. Developers and businesses building in-house app stores need to learn from the consumer downturn and ensure they focus on usability. If not, they will end up in the trash can with the rest of the app one hit wonders"- Phil Barnett, VP and general manager, Good Technology
Deloitte's Paul Lee, head of research for technology, media and telecommunications for the accounting firm, made quite an insightful comment. "
It's pretty easy to create an app but it's very hard to get it downloaded
," said Lee. Independent developers are concerned that it is just a small number of firms that are making the majority of the profits in the business. Despite this out of balance financial structure, in Europe 670,000 jobs will be created by the "app economy" this year, up 26% from 2013.
The future of the app industry is still quite positive in the region, according to research commissioned by Google. The study shows that by 2025, app development will be a £30 billion ($49.9 billion USD) industry in the U.K. The question is whether the majority of the profits will still be controlled by just a few developers. Hopefully by then, the business will have broadened out, with profits trickling down to smaller developers.
source:
TheTelegraph
via
Textually.org