27 patents awarded to Apple
47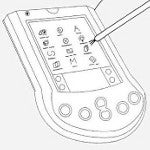 Apple has reloaded its patent Glock with 27 new bullets. In other words, the
USPTO has awarded the Cupertino based firm a batch of 27 patents
. Among the protected ideas is a dock that induces inductive charging. Yes, we could see Apple finally come to market with an official
wireless charging
accessory for the Apple iPhone or the Apple iPad. Apple has tried to develop an inductive charging system before that worked in both portrait and landscape mode, while another invention by the Cupertino based firm used the cable from a headphone as a charging coil.
receive and transmit RF signals, such as once and data
." The antennas inside the docking system could be
tuned to different frequencies, thus improving the reception on the device
. The design of the dock also makes sure that the circuits for the interactive charging and those for the antenna do not touch. The patent number is 11/970,504 and was filed in Q1 of 200
Another patent won by Apple in the batch is for scrolling lists, rotating and scaling documents on a touchscreen. This is a patent that could end up
hitting a few competitors on the head
. The patent also includes the area at the top and bottom of the list if it ends while you are scrolling it.This is patent number
8,209,606 which was originally filed in Q4 2008. Another patent awarded Apple is for the use of gestures to resize the UI and is extended to the Apple iPad. And for the fifth time in the last year and a half, Apple has won a patent for a light-sensitive display that could use a pen that emits light as an input device.
source:
PatentlyApple
via
AppleInsider