25-year AMD VP of Product Design heads over to Samsung
8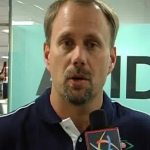 Advanced Micro Devices will not look back on 2012 as a good year. The troubled chip-maker has been hurting for cash, and its core business has been weakening against competitors like Intel. AMD has cut back its workforce, with more cuts expected in 2013, and a number of executives have left the company (some by choice, others by circumstance).
Whatever strategic decisions AMD looks to make to bolster its bottom line product-wise, it is going to be doing so without a long time veteran of the company, Michael Goddard. This exit from AMD apparently surprised a lot of people. Goddard departed AMD after 25 years and joined Samsung where he has taken on a role as a VP and system architect at Samsung's offices in Austin, Texas.
Word in the media is that Goddard is a highly respected engineer, and worked at various AMD operations all over the world. It looks like Samsung was able to acquire some good talent. While the current troubles AMD is experiencing appear to spell "doom and gloom," the company has been making power plays of its own, by recently hiring Jim Keller who was a head chip designer at Apple, and its CIO, Michael Wolfe from Hewlett-Packard.
source:
AllThingsD