170 million iPads sold to date, 475k iPad apps available
5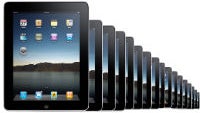 As you would expect with any Apple announcement, there are always new numbers to unpack. We've already gotten a reiteration of the iPhone opening weekend sales numbers, the iOS 7 adoption numbers, the overall App Store app numbers, and the iTunes Radio numbers. Now, we're finally getting to the iPad, and obviously CEO Tim Cook has to start off here with sales numbers as well.
Cook says that to date 170 million iPads have been sold. Unfortunately, as per usual with Apple numbers, they don't tell everything we'd like to know, or everything that you might need for proper context. 170 million iPads is an impressive number, but it doesn't get into the yearly sales, or more importantly how those sales compare to the competition. The iPad is still considered one of, if not the best tablet on the market, but it has also lost its majority share of the tablet market to Android. Tim Cook also put up a chart claiming that iPads are "used" 4x as much as other tablets, but there was no source for that data, nor was there any indication what metrics were used in the measurement.
Apple is still trying to push the idea that its iPad tablet selection is the key to everything, saying that there are 475,000 apps designed specifically for the iPad, rather than "blown-up phone apps". This of course is a reference to Android, and a reference that shows no one at Apple has used an Android tablet lately. Sure, there are more apps designed specifically for tablets in Apple's ecosystem, but tablet optimization has come far enough with Android that Google is going to
prominently display
those apps in the Play Store.
source: Apple