10 lightest and thinnest iPhone 6 Plus cases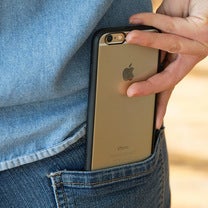 Without a doubt, the Apple iPhone is one of the best smartphones around. It is fast, beautiful, reliable, and functional. When it comes to durability, however, tough to crack or scratch it is not. That's why a huge fraction of all iPhones end up in a protective case of some kind. And protective iPhone cases come in all shapes, colors, and sizes – some are thick and tough, others are thin and feather-light. This post is all about the latter kind.
Since the
iPhone 6 Plus
is already a pretty large smartphone, there are surely many owners who don't want to make theirs any larger. That's why we did a little digging on the internet in search of the thinnest and lightest
iPhone 6
Plus cases. Check them out in the slideshow below and don't hesitate to tell us in the comments which ones you like best. Know of a case that we've missed. Do let us know down below!