10-inch Samsung Galaxy Tab on the horizon, uses resin to become airy
2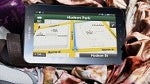 FPD International Green Device 2010 trade-show in China brought a news that few people saw coming – Samsung showed what the CNN believes is a 10-inch version of the
Galaxy Tab
. It was displayed alongside e-readers and small notebooks, but as everyone who has seen the Samsung Galaxy Tab knows, it's capable of much more than just book reading.
No changes in the specs are reported, but here comes the big news – Samsung decided against using glass substrate for the TFT of its 10-inch Galaxy Tab. Instead, it uses resin that's considerably lighter or to put it in numbers – the weight of the panel when using glass substrate - excluding the backlights – is 4.58oz (or 130 g), while it's less than 1oz (28 g) when using resin.
According to the CNN source, the device has a resolution of 1024x600 and is capable of making video calls, which hints that it has a front-facing camera. It's still unclear at that point whether it will support multitasking or not.
We can't say anything definite just yet, since it's the first time that a 10-inch Samsung Galaxy Tab is mentioned and the information is extremely scarce. We'll have to wait and see how things shape for the 10-inch Samsung Galaxy Tab.
source:
CNN
Recommended Stories