Company puts AR to good use with one-of-a-kind laptop with 100-inch screen
1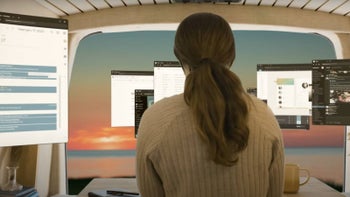 Everyone from Facebook to Microsoft has been trying to push immersive technologies on us and Apple is expected to join the fray next month. No one has presented a
solid use case
for augmented reality (AR) and virtual reality (VR) headsets yet but AR company
Sightful
is hoping to change that with the introduction of Spacetop.
First, a little refresher. AR projects digital elements onto live views, such as virtual creatures in a park, whereas VR is completely virtual and shuts out the physical world.
We as consumers have been told that AR and VR headsets are transformative technologies that will change the way we work, play, and interact with people. They mostly seemed to be focused on gaming at the moment and
haven't really taken off
.
Sightful thinks that it can help AR move beyond the hype. The Spacetop is the world's first AR laptop. It's basically a keyboard connected to AR glasses with a wire (via
Wired
).
What separates it from a standard laptop is that it gives you a virtual 100 inches screen and the ability to launch as many apps and windows as you need. So it's essentially a multi-monitor setup that you can take anywhere.
I think it's great for work from home too as the headset will discourage people from talking to you and help you get work done. In the office, your bosses won't be able to see what you are up to (we are not responsible for what you do with this information).
Sightful didn't build the base hardware. It got the components from popular AR glass maker NReal and electronics manufacturer Wistron and customized them.
A common problem with AR glasses is that they are a pain to wear for long periods of time. Sightful tweaked NReal's glasses for a more comfortable experience. They can even be ordered with prescription lenses at no extra charge.
The keyboard has a cradle for the headset, a small screen for QR codes, two USB-C ports, DisplayPort 1.4 for external screen support, a 5MP camera, and a 3.5-mm headphone jack. It also supports Wi-Fi 6 and Bluetooth 5.1 and is 5G-ready.
The AR laptop is powered by the Qualcomm Snapdragon 865 chip and has 8GB of RAM and 256GB of storage. It runs the company's Spacetop OS and anything that works on the web will work on the Spacetop. You should be able to use Slack, Microsoft Teams, Google Workspace, and Microsoft 365 on it.
Sightful says it will last five hours on a single charge and it takes less than two hours to take the battery from zero to 85 percent.
The Spacetop costs $2,000 and can be purchased through an invitation-only program.