i.Tech MyVoice 610 Review
1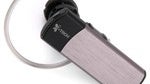 Introduction:
"It makes your dream come true" – this is how i.Tech Dynamic introduces the
MyVoice 610
Bluetooth headset on its official web page along with a few more bits of Chinglish here and there. Seemingly aimed at more style-conscious consumers, the MyVoice 610 is one of the latest additions to the Hong Kong-based manufacturer's updated line of wireless gizmos. When we reviewed several other i.Tech Bluetooth accessories some time ago, they were not bad, but were not flawless either, so let's give the MyVoice 610 a try and see what it can do to impress us this time.
What is in the box:
MyVoice 610 headset
10 soft rubber sleeve attachments
Sleeve adapter
2 ear hooks of different sizes
microUSB charging cable
Multilingual user manual
Design:
At a glance, the i.Tech MyVoice 610 Bluetooth headset actually looks and feels about as good as high-end models from manufacturers that you have actually heard of before. Most of its casing is made out of brushed aluminum, which gives it a classy look and helps the plasticky bits remain mostly unnoticed. The wireless headset comes in four different styling varieties with "Noble" being the one that we have on hands today.
Luckily, the headset's metal outfit does not seem to take a toll on its weight – it clocks in at the commendable 0.27 ounces (7.7 grams). The MyVoice 610 sits nice and tight when in place over the ear and it doesn't take long before you start forgetting about its presence. However, putting the headset on properly may require some practice since the plastic hook that goes over the ear tends to move sideways too much. The set includes two types of differently sized rubber sleeves, which attach to the earpiece and provide a quite nice, comfortable fit. Once you find the one that suits you perfectly, you should be able to wear the headset for a whole day without it bothering you. It seems like the rubber sleeves that are meant to sit partially inside the ear canal make it much less likely for the headset to fall off and also provide a small amount of passive noise reduction. Here we found out that using an ear hook with the headset is pretty much mandatory since without one it gets detached from the ear too easily.
Taking a closer look at the device reveals a
multifunctional button
located at its back. A small tip makes finding it with a finger easier when you need to answer or make a call though a bit more exposure and tactile feedback would not have been excessive. Second in size is a wobbly
volume rocker
, which is located on the headset's edge, and its slightly curved profile is also meant to facilitate locating the buttons with your thumb while on the move. Having a basic volume rocker may seem like a simple solution, but it works great unlike other "innovative" ideas such as using a single dedicated button or a touch-sensitive strip to control sound level. There is a
hold key
as well – it is installed right next to the volume rocker on the inner side of the headset When activated, the hold key disables the multifunctional button and the volume rocker in order to prevent accidental presses. Unfortunately, it is so tiny that it may prove difficult for people with bigger fingers to reach it.
A
trio of LEDs
provides some visual feedback depending on the headset's status. The lights are located on the inside of the device, which means that they will not be distracting anyone if they happen to go off during usage. When paired with an iPhone, some other i.Tech models can display battery status information right on the smartphone's screen, but unfortunately, this feature is not present in the MyVoice 610 model.