Withings Pulse HR Review
2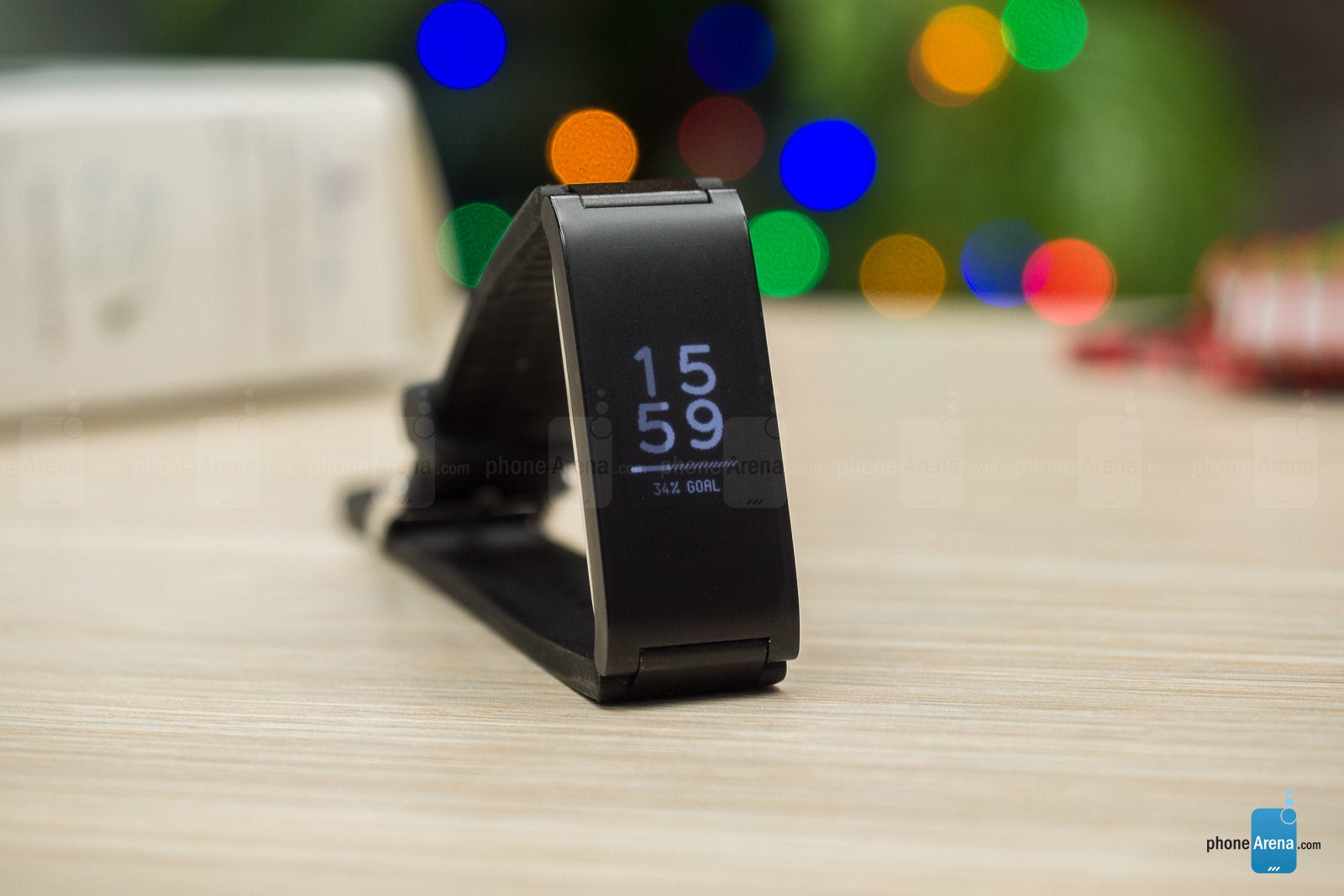 If you're one of the millions of people that begin the new year with the goal to exercise more, you might need some help maintaining that motivation beyond the first week of January. Besides having friends that will drag you to the gym, another way to keep yourself in check is by using a fitness tracker. This is where the Withings Pulse HR comes in. With its simplicity and durable design, it will be your partner in all activities that can get your heart pumping. So let's see what it has to offer!
What's in the box:
Pulse HR
USB charger with magnetic slot
Safety and Warranty booklet
Design

and comfort




The Pulse HR is not the smallest fitness tracker, but it is light, compact, and mostly unobtrusive. It has a clean design and fits well on most hand sizes thanks to its double hinges. The band buckle and underside of the tracker are metal and chrome-plated, giving the accessory a bit of a premium look and adding durability, while the top has a matte finish (more about it later). Our only complaint is that bands of different sizes could have been included in the box. The bundled removable silicone band is okay, but strangely, there are currently no alternatives on sale on Withings's web page.
Display

and controls

Despite the face of the Pulse HR offering plenty of real estate, the monochromatic OLED display's actual size is about half of that. In other words, it's tiny, so don't expect much from it. Oh, and remember that matte finish we mentioned? Because of it, the display looks like you've smudged something over it, with numbers and letters lacking sharpness. On the other hand, having a screen this small and simple allows the accessory to achieve great battery life.

What you get to see on the display is the current time, date and a progress bar for your daily goal. Using the button on the side or by tapping on the device, you can switch between the different stats it tracks, which are customizable from the app. There is no always-on display option available, so you'll have to rely on the Pulse HR to detect when you lift your hand – something it's sadly not particularly good at.

By the way, the screen is not touch-sensitive. There's a sensor inside that detects the tap, and we discovered that you can change the screen by tapping on your hand if you want.
Software

and functionality

Besides activity tracking, the Pulse HR offers little else. One feature it does have is the ability to display notifications you receive on your smartphone. You get to select which ones are sent to the tracker, which is nice and all, but there are some caveats. First, notifications are displayed for a short period of time when received, and after that, they disappear from the tracker forever. So unless you can look at your watch right away, you'll just know that there's something to see on your phone. And while the notification text does scroll to show you more than a couple of words, it still won't show you the whole message if it's longer.

Of course, the Pulse HR has its own companion app. Called Health Mate, it has a very clean and intuitive design and is light and responsive. The auto sync between the app and the tracker works without a hitch, but you can force a synchronization at any time and it only takes a couple of seconds. From the app, you can see your daily stats and activities (more on them later) visualized with easy-to-read graphs and icons. This allows you to quickly get an idea of how well you're doing each day or go more in-depth and check your progress throughout the past week or month.

One thing we'd like to see in the app is the ability to customize what the main display on the tracker's screen shows or at least have a few different watch faces, but you're stuck with Withings' decision on that one. The app offers 30 different exercises of which you can select 5 for quick access from the band.

Another thing we didn't like was that your daily goal can only be a number of steps taken. While you can adjust how many you're aiming for, we'd prefer to have a choice between steps, calories burned or distance covered.

The band keeps track of your calories burned throughout the day and during intense activities, but there's no way to add your calorie intake within the Health Mate app. However, you can connect it to the MyFitnessPal app and use its food logging options alongside the data from Health Mate.

Additionally, if you have friends that use the same app, you can create a leaderboard and add a competitive element to your workouts. Or if there's no one to accompany you, through the app you can set up reminders for different health-related activities like going out for a run or drinking a cup of herbal tea.
Sports

and activity tracking

The Pulse HR tracks all the usual measurements: steps, distance walked, heart rate, calories and sleep. You can check those directly on the bracelet or within the app.

Calories are tracked throughout your day based on your activity and separately for workouts whenever you activate one. To do that, long press the button on the device and choose one of the 5 activities you've selected from the app. It's hard to judge how accurate the tracking is, but we did notice some discrepancy between the data shown on the machine and on the tracker. That's normal.

After you're done with the workout, you can stop it from the tracker – or from the app if your phone is around. At the end, you'll get time spent, heart rate and calories stats for each workout. The heart rate graphic is arguably the most interesting one. It will show you how much time your heart was pumping at different intensity levels.

The different activities are just for more convenient tracking in case you're practicing a few sports regularly. There's no difference in the way the tracker works from one activity to another, as far as we could tell. If you're more into water sports, have no fear, the Pulse HR is water resistant up to 50 m, so swimming, surfing and so on will be no problem for it.

If you forgot to turn on a specific workout, worry not! The Pulse HR will automatically detect any workout-like activity, and you can later specify what it was and how intensive it felt so the app can estimate the calories burned more accurately.

At night, your sleep is evaluated using four different metrics (duration, depth, regularity and interruptions) and a score is given for each night's sleep based on your score in each "category". Depth is only separated into light and deep sleep, there's no measurement for REM sleep. Interruptions are detected if they're longer or you got out of bed. Waking up and shifting around in bed for a bit won't show up (unless you do it very violently). The Pulse HR will even detect naps if they're long enough. Overall, we liked the scoring system since it gives you an incentive to have a more regular sleep schedule.
Battery

life

Battery life will be of no concern with this device, as it's one of its best features. Withings says the Pulse HR will last up to 20 days, and we can confirm that you can easily achieve that kind of longevity even while wearing the band all day. In today's day and age, this is an eternity when it comes to battery life. We would have liked to be able to sacrifice some of that battery to have the display on at least during workouts, if not all the time, but for now, that's not an option. Charging takes around an hour and a half, which great considering how long a full charge will last you. From the time you get a battery low warning, you have at least a couple of days' worth of battery, but you can't activate workouts until you charge the tracker.
Conclusion
The Pulse HR is one of those in-between devices: not a smartwatch, but not just a bunch of sensors strapped to your wrist either. And while the display does provide some extra functionality, it's too little and basic to justify the higher price of $130 that comes with this fitness tracker. If you want something to track your activities and replace your watch, Withings has other options that will do a better job at that. However, if your focus is on activity tracking and time on your wrist is just a bonus you'd like to have, then the Pulse HR will serve you well.
Recommended Stories