Verizon Wireless Escapade WP8990VW Review
4

Introduction:
The
Verizon Wireless Escapade WP8990VW
, manufactured by Pantech PCD, is the second flip phone from the carrier to offer global roaming, as it is able to use both CDMA and GSM networks. The
Samsung Renown U810
is the only other current non-smartphone from Verizon to offer this, but there are some key differences between them, such as the Renown having a QVGA internal display, microSDHC memory card slot, and the ability to use Verizon's EVDO network for data. Because of this, the Escapade is geared more to the casual international traveler, who only requires a basic phone to use while abroad.
Included in the retail package you will find the Escapade WP8990VW phone with preinstalled Vodafone SIM card, 920 mAh battery with cover, wall charger with 3 adapters, and user manuals.
Design:
The exterior of the device is stylish with a dark maroon color used and three chrome accent pieces on the front. The
build quality also seems good
, as the hinge opens and closes smoothly and the phone's overall plastic construction should hold up to normal daily use. It is also about the same size as the Samsung Renown, so it is comfortable to hold and can be placed into your pant's pocket without being too noticeable.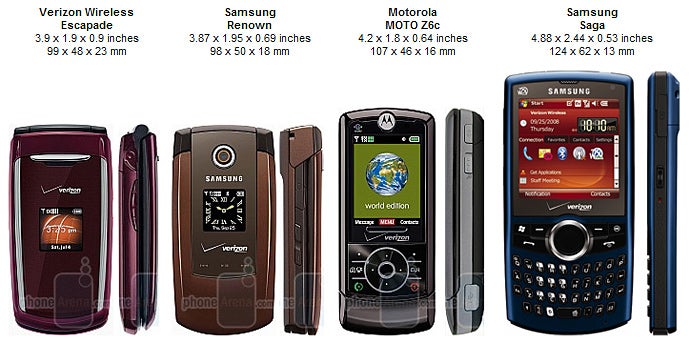 You can compare the Verizon Wireless Escapade WP8990VW with many other phones using our
Size Visualization Tool
.
Located on the front of the Escapade is the rather
small 1.1" diagonal 96x96 pixel external display
, which shows the data & time, signal strength, incoming Caller ID, and background wallpaper. On the left side of the device is the volume rocker and 2.5mm headset jack, with the camera button, voice command button, and proprietary charger/data port on the right. The 2MP camera is found on the back, right above the battery compartment. It is unfortunate that a microSD card slot is missing from the Escapade, as it would allow for easier file transfers, but we can conjecture this was done to help keep the cost down.
Flipping open the Escapade reveals the
2" diagonal 176x220 pixel TFT display
, which is capable of 262K colors. Because of its lower resolution, images and text have jagged edges to them, in contrast to what you see on the Renown's QVGA display. Also missing are any type of brightness settings, which means the Escapade's internal display is almost blacked-out when trying to view in direct sunlight. Directly below it are the
d-pad and numeric keypad
. Even though the keypad buttons are large and easy to use for dialing numbers and text messaging, we found the left & right arrows of the d-pad to be quite small and difficult to press
Verizon Wireless Escapade WP8990VW 360 Degrees View: