Sony Ericsson Cedar Review
25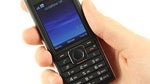 This is a global GSM phone. It can be used with
T-Mobile
USA and
AT&T, but
without 3G.

Introduction:
Sony Ericsson Cedar
. With a sufficiently organic name, the Cedar takes its position as an entry level phone with a few very nice elements such as a 3.5mm headphone jack, 3G and expandable memory to make it more than just a simple candybar phone with a bit of green on the side.
Design:
Shipped in a teeny tiny box and you recognize that the green starts before you even switch on the phone. Open the box and it's pretty barren, there is none of the superficiality or grandeur as found in other handset boxes, just the Sony Ericsson Cedar, a wall-charger and some papers. The phone itself is markedly plastic (recycled plastic at that), with three core elements: the phone body, the battery and the silver-coloured battery cover which takes up the entirety of the back of the phone along with a fair amount of the sides. On the top is a 3.5mm headphone jack, on the left a microUSB port and on the right a volume rocker. The fascia is home to the numeric pad, a menu, clear, call, end buttons and two soft keys as well as a four way d-pad and the 2.2-inch screen.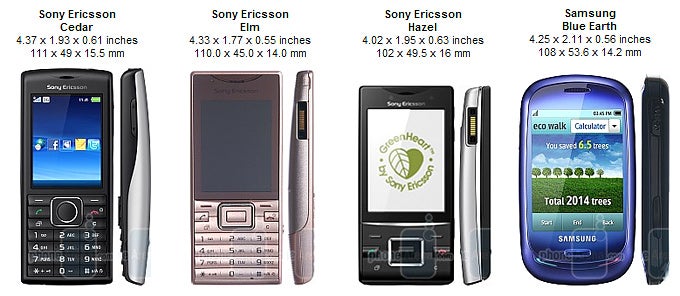 You can compare the Sony Ericsson Cedar with many other phones using our
Size Visualization Tool
.
The Sony Ericsson Cedar screen is a non-touch-screen TFT measuring in at 2.2 inches with a resolution of 240x320 pixels. While viewing angles are good up, down and left, tilting the phone right will unfortunately blow out the contrast very quickly. Nothing is particularly sharp, however brightness levels are on the whole good and we didn't have trouble viewing it outdoors.
The keys are all heavily raised at the bottom, semi-rubberised and very grippy and tactile. This means they are easily distinguishable up and down though left to right they are completely flush with one another which is a shame. They do provide a good click feedback though and are clearly labelled. Text entry is comfortable, and while the handset does feel very plastic, we'll attribute this to the green theme and give an overall thumbs up to the design of the Greenheart phone based on its usability.