Samsung Galaxy Tab 3 10.1-inch Preview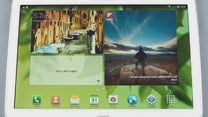 Introduction
Samsung's newly-announced
Galaxy Tab 3 10.1-inch
tablet reached our grubby mitts, and we are pretty curious to examine the first Intel Atom-based Android slate from Sammy. It is thinner and lighter than its
Galaxy Tab 2 10.1
predecessor, and runs the newest Android
4.2
Jelly Bean. What we have is a prototype still, not a retail unit, so read on for our initial impressions...
Design
You can't really tell from the chassis build that the tablet is non-final. It feels quite sturdy yet very light at 510g, plus it is thin, at sub-8mm, and compact. A 10-incher should be meant to be held in landscape mode, yet here the side bezel is thinner than the top, where the Samsung logo is, and the bottom, which houses a physical home key, as well as capacitive navigational buttons.
Display
The screen, at
1280x800 pixels
and 145ppi, is pretty basic for today's tablet standards, indicating that Samsung didn't want to throw the kitchen sink in its first experiment with Intel and Android. It displays decent colors and good viewing angles, though, so the only gripe is about the comparatively low resolution, which makes things look pixelated to our spoiled eyes, even from a normal viewing distance. Well, depending on the price, as if this thing lands at rock bottom, all our complaining is off.