Samsung Galaxy A6 (2018) Review
6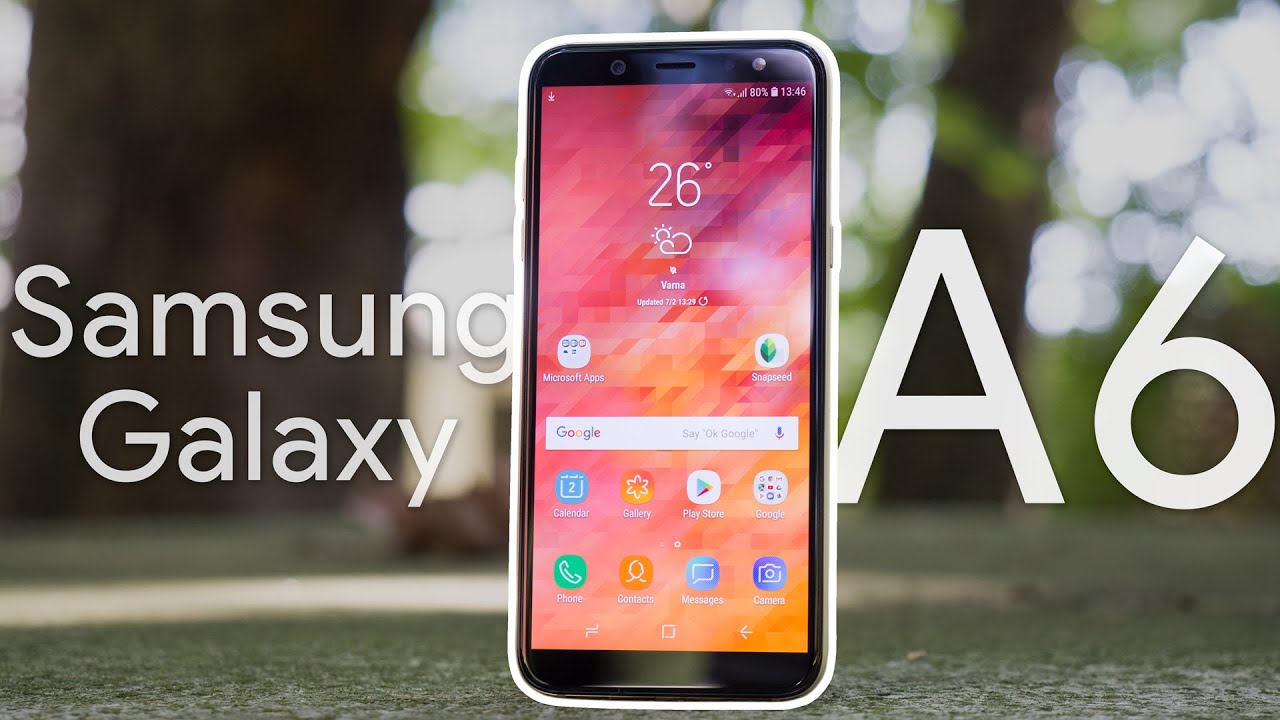 Update

: You can now read our Galaxy A6+ (2018) review!
Review index
Samsung has just unveiled a duo of new affordable phones that bring its beautiful AMOLED screens at a low price and that deliver the reliability of a Samsung experience. We have already reviewed the larger of the two, the Galaxy A6+, and today, we have the more compact and affordable one, the Galaxy A6 (2018), up for review.
The
Galaxy A6 (2018)
features a sturdy metal design in a compact thin and elegant body and it features the Samsung Experience interface, but it also makes a few compromises that you should be aware of. Of course, all those compromises are in line with the affordable price of this phone: in Europe, it costs around 310 euro and the phone is rumored to also come to the United States in the future.
So let's get started and dive deeper with the Galaxy A6.
What's in the box:
Phone
User manuals
Wall charger (7.75 watts)
MicroUSB to standard USB cable
White earbuds with in-line mic and controller
SIM Ejector tool
Design
A compact metal phone that feels sturdy, yet is thin and elegant.
The big appeal
of the Galaxy A6 is clearly its compact size: with a 5.6-inch screen and minimal bezels around it, the A6 is just slightly bigger than an iPhone 8 and is very comfortable to use with one hand and to keep in a pocket.
The design is made of metal, which is a change from the trendy glass designs that are in use currently, but we don't mind. Why? Well, a metal phone might not have quite the same premium feel, but it is sturdier and more shatter-proof on one hand and it won't get all dirty with fingerprint smudges on the other. The body itself is still thin and elegant, which is a nice bonus.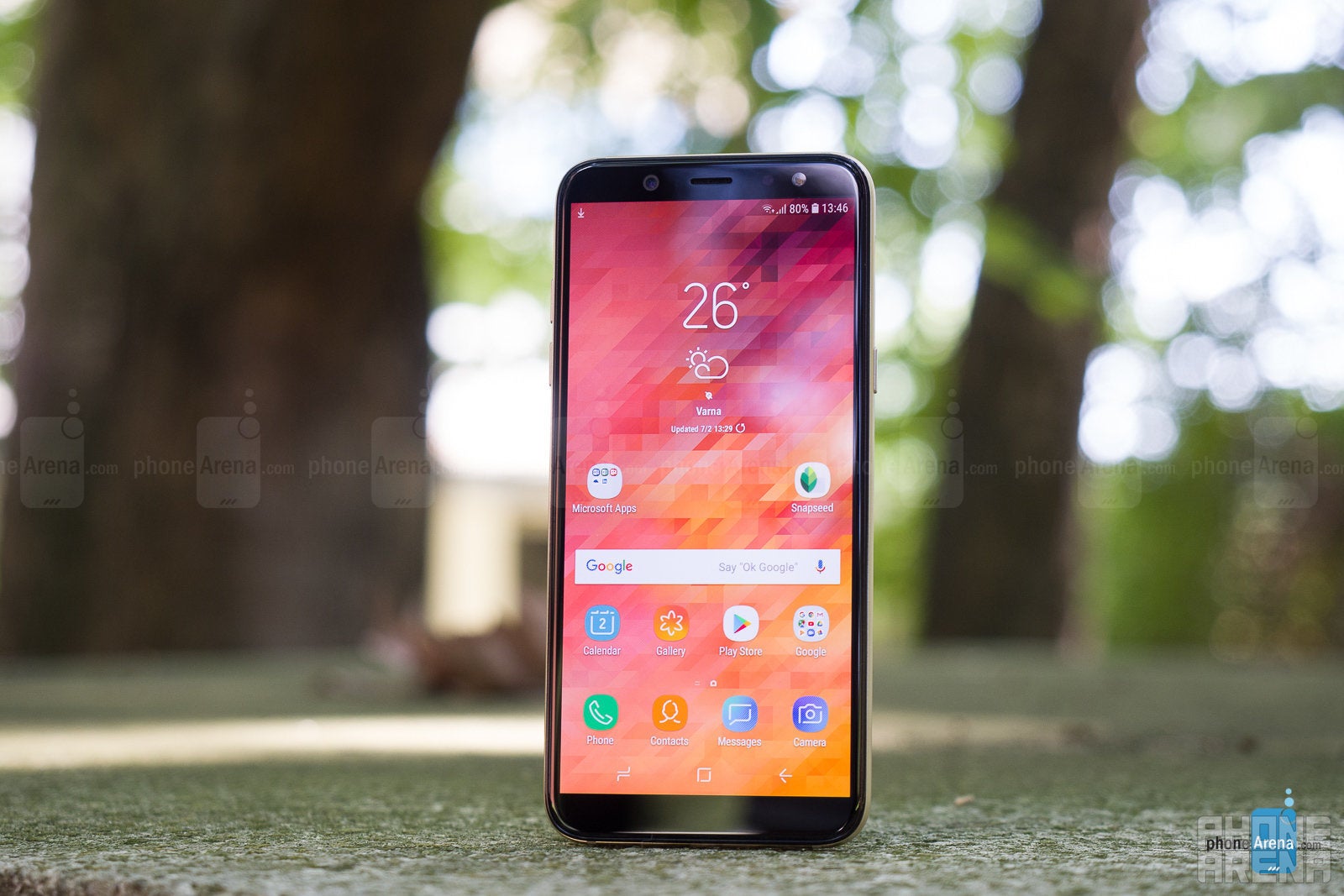 On the right side of the phone you have a power key and on the left side you get two separate volume buttons. On the bottom, you can find a microUSB port for charging, and yes, it's really sad to see a phone in 2018 still use that old standard rather than the more convenient USB-C. You also get a 3.5mm headphone jack on the bottom, and those who still use their trusty wired headphones will be happy about this. On the back is a single camera that bulges out slightly and a fingerprint scanner below it.
The fingerprint scanner is positioned within easy reach below the camera. The scanner works very accurately, but we did notice a slight delay between the moment you place your finger and the moment the device unlocks. It's not a dealbreaker by any means, but still worth pointing out.
You also have face recognition built in as an alternative secure unlocking option. The process of registering your face is simple and easy, and face recognition works well during the day, but not so perfectly at night. There are two things to know here: first, face ID is more about convenience and it is not as secure as a fingerprint scan, and second, it is again on the slow side, but it's still nice to have as a second option.
Two features that you will not find on the A6 are water-proofing and wireless charging. Not a surprise for an affordable phone, but still something to keep in mind.
Display
The 5.6" Super AMOLED screen has beautiful colors, but looks noticeably pixelated.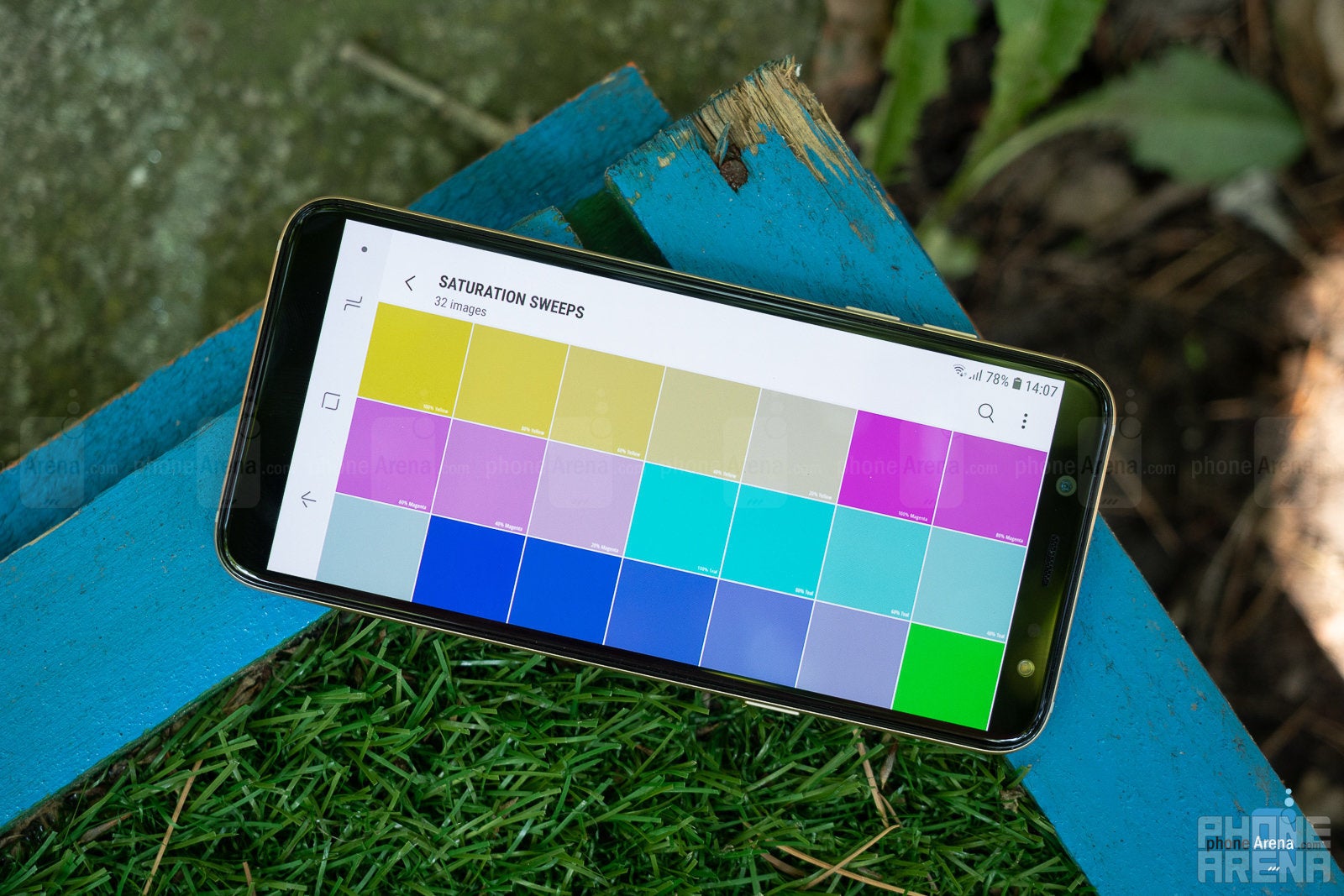 With relatively slim bezels, most of the front of the phone is occupied by the 5.6-inch Super AMOLED screen.
The Super AMOLED screen technology is more advanced than the LCD screens used on other phones and produces more impressive, punchy colors and this is one of the main advantages of the Galaxy A6 over the competition.
However, there is a catch and that is the screen resolution. Samsung has really cheaped out and the A6 screen has a 720 x 1480 pixel resolution, at which you can see some slight, but noticeable pixelization. This is definitely disappointing and it's especially noticeable when you read text in the browser, but also even on icons in the menus.
We were impressed with color reproduction on the Galaxy A6+, and we have also tested the display on the smaller A6, and while it had a very good showing as well, we found it to be just a bit less accurate with colors. The screen is not as bright, nor can it get quite as dim at night, and color reproduction is very slightly off.
Display measurements and quality
Interface and Functionality
Samsung Experience is one good-looking, feature-rich UI.
The A6 sports the Samsung Experience interface (version 9.0) on top of Android 8.0 Oreo, which is the latest major release of Android.
A word of caution about updates: affordable Android phones don't quite have the best track record when it comes to getting software updates on time (or ever), so do keep in mind that if you get this phone.
With this out of the way, we ought to give kudos to Samsung for polishing the looks and stlyling of the Samsung Experience interface, which now looks modern and coherent, beautiful. Samsung makes a few of the core apps on this phone and they all look great: the weather app is useful and looks good, the settings menu is well laid out, the camera is easy to use, and the built-in gallery and calendar apps are nice.
Even power user features like the Secure Folder environment are present on this affordable phone, which is nice. Secure Folder creates a secure space where you can place sensitive information and rest assured that not everyone who you hand your phone to will be able to accidentally take a look at your secrets.
At the same time, certain innovative feature that other interfaces have are still not available on Samsung Experience: other companies like Xiaomi now include super cool gesture navigation in even their cheapest phones, while no such option is present here.
Processor, Performance and Memory
Exynos 7 Octa runs smoothly here.
In our Galaxy A6+ review, we found that our biggest complaint about the phone was the entry-level Snapdragon 450 chip used in it and how it affects performance, so that apps take an extra second or two to load up, and the overall experience is a bit stuttery.
The Galaxy A6 features a different processor, the Samsung Exynos 7 Octa, which is similar in class to the Snapdragon 450 (the Exynos is an octa-core chip with eight Cortex A53 cores and it's built on 14nm tech), but it delivers a faster performance on the A6.
The reason most probably lies in the lower resolution and the lower overall load on the system that comes with it, so we were actually quite satisfied with the way things run on the A6.
The Galaxy A6 (2018) will also handle games easier at this lower resolution, so it is an interesting trade-off between pixelization and performance. Still, this is clearly an entry-level chip and not one for the gamers out there. A quick look at the benchmark tests below shows what kind of performance you can expect.
In terms of storage, you get 32GB on board and the option to add additional storage via microSD cards.
Internet and Connectivity
Support for 4G LTE with a caveat.
The Galaxy A6 comes with support for 4G LTE connectivity, just as you'd expect on a modern smartphone, but the international model that we have up for review does not support LTE bands for the United States. We have, however, heard rumors that a couple of the major US carriers (Sprint and AT&T) might launch the Galaxy A6 with full LTE support in the near future.
Other connectivity options include dual-channel Wi-Fi, NFC for Samsung Pay and Google Pay, Bluetooth 4.2 and GPS, Glonass and Beidou for navigation.
Camera
One for the selfies.
One of the biggest differences between the Galaxy A6 (2018) and its larger sibling, the A6+, surely lies in the camera department. While the Galaxy A6+ features a dual camera system on its back that it uses to create Live Focus portrait-like effects, the more compact Galaxy A6 has a single rear camera that does not support Live Focus.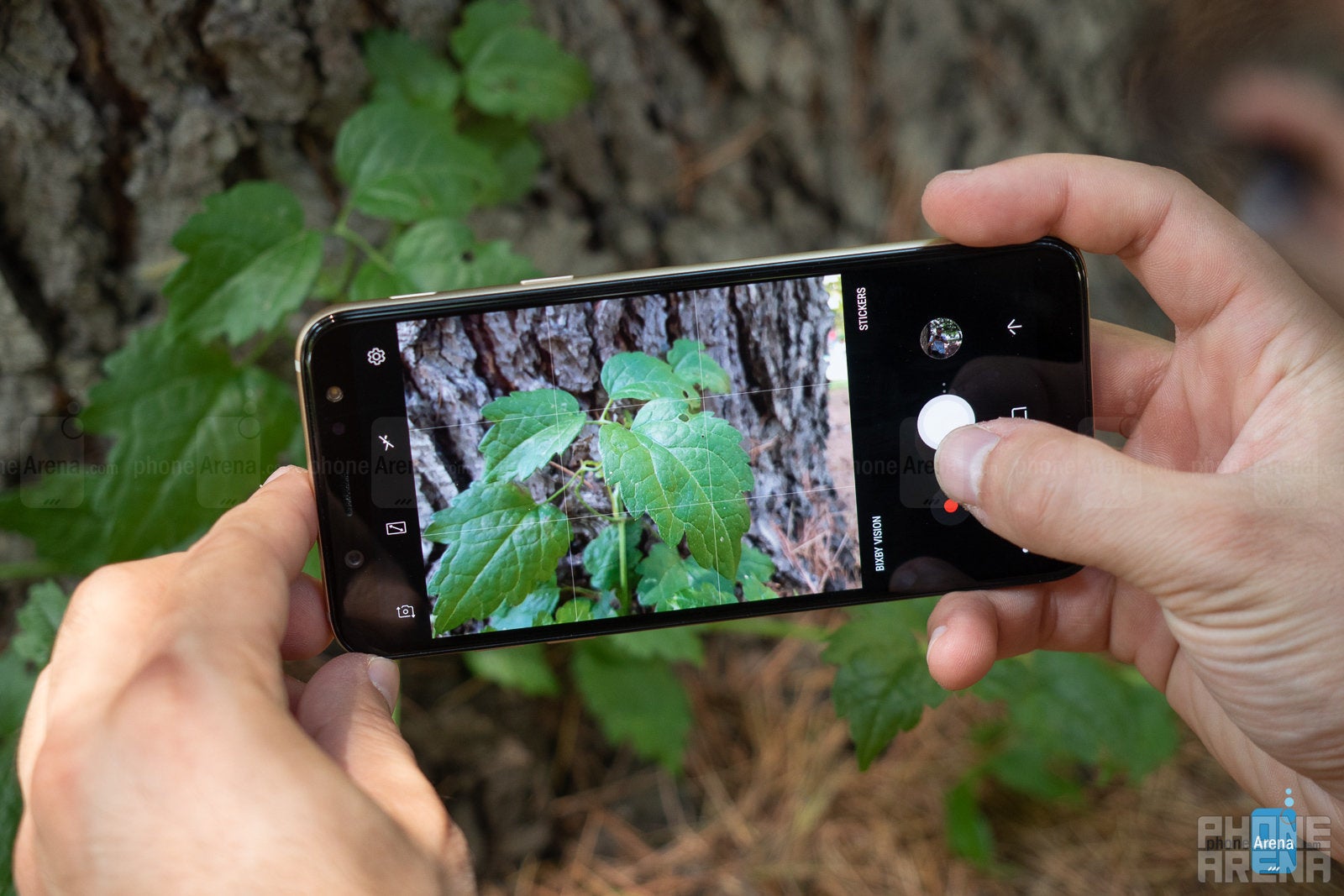 Up front, you get a 16-megapixel camera on the A6 and a dedicated LED flash (yes, a flash at the front!) for night-time selfies.
A quick double-press on the power key jump-starts the camera app quickly and the camera app itself is well laid out and supports Samsung's fun stickers that can help turn you into an animal. Plus, you also get Bixby Vision that recognizes some objects from a photo and tells you more about them.
Image Quality
How do images turn out, though?
Well, only decent, but not really as good as we hoped. Since we have just used the Galaxy A6+, we immediately noticed that the actual experience of taking photos is worse: the auto-focusing speed is slower, the camera is slower and the pictures don't look as good.
When comparing photos from the A6 and the A6+, you can see that the A6 has lesser dynamic range as it very noticeably burns the highlights and has less detail in the shadows, which are too dark. The amount of detail and sharpness is similar, but the difference in dynamic range is quite striking.
In low light, more noise creeps in and it's even harder to get a picture in sharp focus.
What we are actually impressed with, though, is definitely the selfies. With a clean, sharp look, lots of detail and support for the excellent Live Focus mode from the front camera, selfies taken on the Galaxy A6 look stunning. They have a true portrait-like background blur and the person in front of the camera is captured in a very flattering manner.
Video quality
In terms of video quality, you only get 1080p Full HD video recordings and no 4K video quality, which is a bit of a let-down considering other phones of a similar caliber do offer this option.
1080p videos turn out of average or below average quality: you don't get a lot of detail in the videos, focusing is slow and while you do get some stabilization it is not perfectly smooth.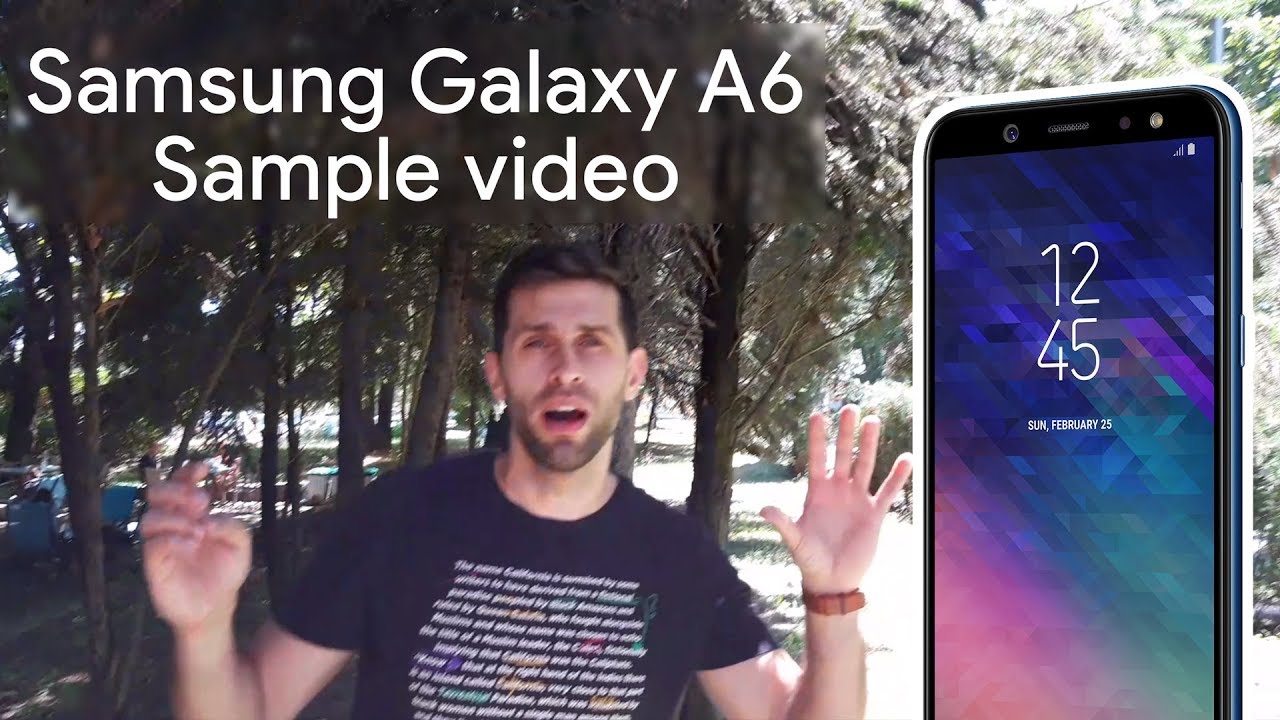 Sound quality
You have one loudspeaker on the Galaxy A6, but unlike on most other phones, this speaker is located not on the bottom, but on the right side of the phone, right above the power key.
The sound quality you get through this loudspeaker is actually quite good, as it all sounds clear and loud, but still, a step below flagship phones, of course.
And once again, you do get a 3.5mm headphone jack here, so you don't need to worry about adapters when you want to to connect to wired headphones.
Call Quality
When it comes to call quality, we have had a smooth ride with the Galaxy A6. Voices in the earpiece sound clear and easily recognizable, while on the other end of the line there were no major issues either.
Battery life
Not great and not bad: just average.
The Samsung Galaxy A6 sports a 3,000mAh battery, which is about average for a phone of this size.
We ran our battery life test on the Galaxy A6 and it scored 8 hours and 19 minutes on it, which is around the average score for phones this year. In real life, the phone did get us through a full day, even with our intense use, but it won't quite stretch to two days and you still need to recharge it every night.
It's worth mentioning that the handset is made of metal, which automatically rules out support for wireless charging of any sorts.
Price and Alternatives
The Galaxy A6 is an affordable phone, yet still it's not among the cheapest phones out there with the starting price set at 310 euro in Europe.
At this price, the A6 will meet ample competition from both Android phones and older iPhones.
Here are some popular alternatives that you might want to look into if you consider getting the A6:
Honor 9
(
read our full review here
) is a device of a similar size with faster performance and better camera quality
Nokia 7 Plus
(
read our full review here
) is offered for the same price as the Galaxy, but has a faster performance and a clean interface with the promise for faster future updates
Huawei P20 Lite
is another phone with shiny glass design that many might like
Moto Z2 Play
/
Moto X4
/
Z2 Force
are now offered at prices similar to the A6, yet offer multiple premium features and faster performance
Apple iPhone 6
might be an old phone that, however, you can still find and that brings faster performance and Apple's rich iOS ecosystem
Conclusion
Summing it all up, the Galaxy A6 (2018) is a compact and elegant phone, with compact being the key word. It is indeed a device that slips easily in a pocket and is very comfortable to handle, and it runs fairly smoothly in the daily grind. The Samsung Experience is a solid and reliable UI that you can count on, even if it lacks exciting new features. And selfies you take with it look very nice.
Unfortunately, the Galaxy A6 is also a phone of compromise: the low resolution of the screen means that you see noticeable pixelization, the camera quality is lower than that of the A6+ and this is disappointing, the battery life is not quite as impressive as on the plus-sized sibling, and you lack the dual camera system and Live Focus mode for the main cameras. Add various other little shortcomings like the use of the dated microUSB port, lack of fast charging, water protection and so on, and it feels like the 310 euro that Samsung is asking is a bit too much for this phone.
Update

: You can now read our Galaxy A6+ (2018) review!
Recommended Stories