Samsung GALAXY Fit Preview
46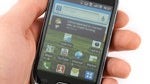 Introduction:
The successor of the
Samsung Galaxy S
may be the Sammy phone everyone is talking about, but that didn't stop the Korean manufacturer to announce four low- to mid-end GALAXY handsets - the
Ace
, the
mini
, the
Gio
and the one you are reading about right now - the
Samsung GALAXY Fit
.
The last time Samsung targeted this market segment, the Korean manufacturer offered a pair of decent affordable handsets - the Samsung Galaxy 3 and the Galaxy 5, so it's time to ask ourselves - can the same be said about the GALAXY Fit?
Design:
There is nothing extraordinary about the way the Samsung GALAXY Fit looks like, but we can only compliment its build quality. Fair enough, it's predominantly made of plastic, but you get that feeling of a good craftsmanship when you hold the GALAXY Fit, and the chrome-like bezel surrounding the phone further helps this perception. Moreover, the trademark black glossy plastic (which is a finger print magnet) we know so well from the back sides of various Samsung handsets (like the Galaxy 5) is replaced with the finger print-resistant plastic of the GALAXY Fit.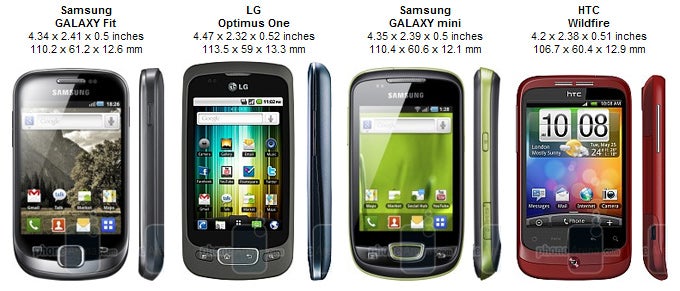 You can compare the Samsung GALAXY Fit with many other phones using our
Size Visualization Tool
.
This phone sports a
3.3-inch capacitive screen
with a resolution of 240 x 320, which ensures that the items on the screen don't look particularly great. On the other hand, we were pretty pleased with the viewing angles of this phone, and its screen visibility under the sun is nothing to frown about either. Furthermore, the responsiveness of the capacitive screen is exactly what it should be, i.e. very good.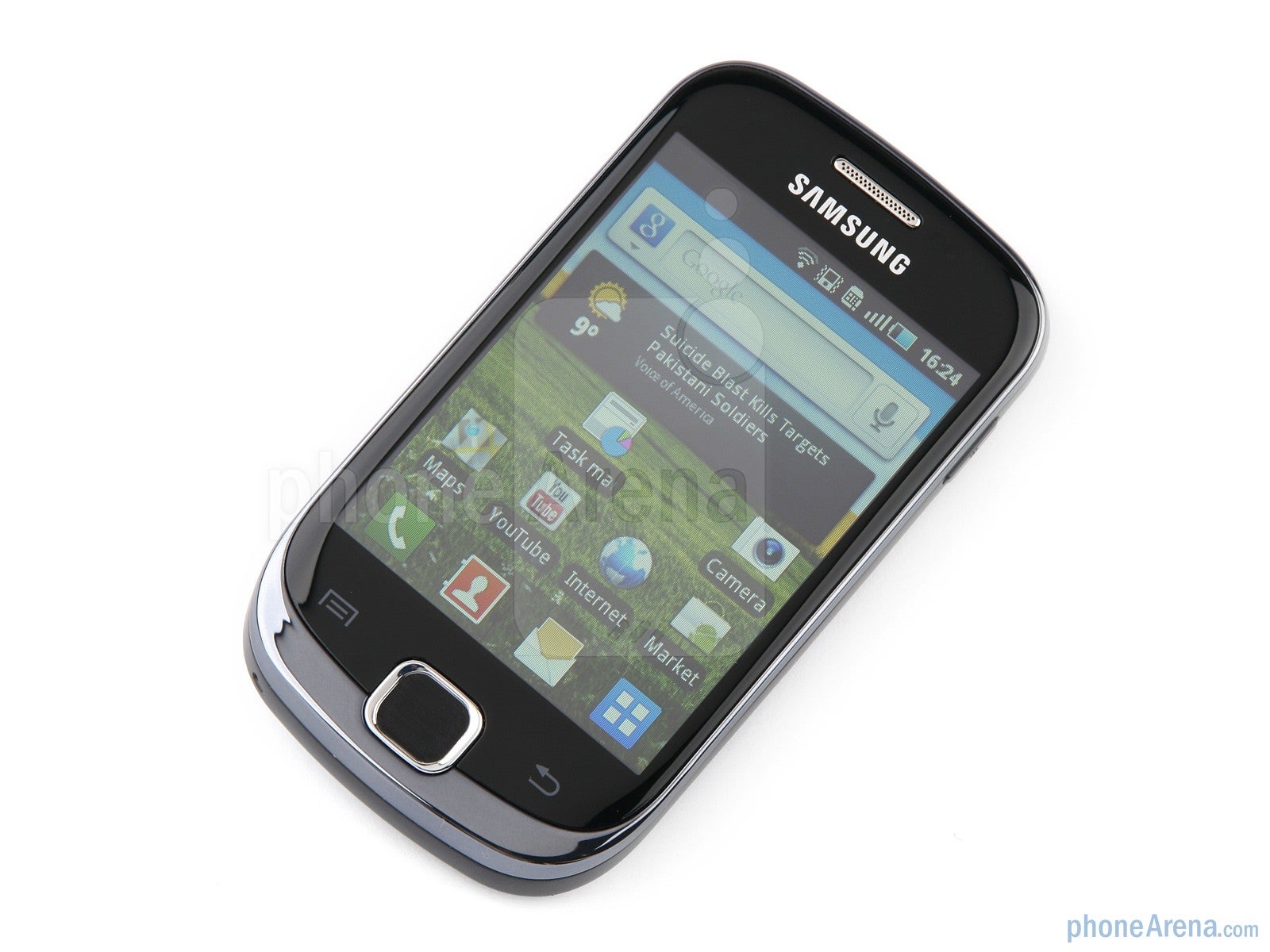 This phone sports a 3.3-inch capacitive screen
On the
front side
this handset has one physical
button
at the center, which looks a lot like a d-pad. However, it's not a d-pad - actually, its sole functions are to take you to the home screen and to bring the task manager (after a long press). On the left and right of the physical button are positioned two touch sensitive ones (menu and back respectively).
On the
upper right side
of the handset resides the power button, while on the
top side
are the microUSB port and the 3.5mm headphone jack. On the
left
are the volume rocker and the microSD slot. The 5MP camera is
on the back
, but unfortunately a dedicated camera button is not included.
All in all, the Samsung GALAXY Fit feels good in the hand. What we like most about it is that it feels sturdy without being bulky, and we have no reasons to doubt its durability. Moreover, the fact its back side is not a finger print magnet is refreshing in itself.
Samsung GALAXY Fit 360-degree View: Recommended Stories