Outdoor Technology DJ Slims Review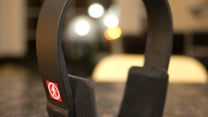 Introduction:
If you're hunting for a pair of Bluetooth headphones that won't drain your wallet entirely, while still having that sprinkling of premium, then you ought to set your eyes on
Outdoor Technology's DJ Slims
wireless headphones
. Notable for its affordable $69.95 cost, it sports an interesting design to say the least, but let's cross our fingers in hoping there isn't a sacrifice in its audio quality.
Design & Comfort:
For a company known to make gadgets that are meant for the great outdoors, the DJ Slims goes outside of the box with its mashup design. However, after looking at them more intently, we eventually saw a bit of beauty in an otherwise
nostalgic looking thing
– albeit, its design reminded us of a horseshoe. Donning a soft touch matte finish all around, it helps to keep it looking sparkling new, which is helpful if it's meant to be used in the outdoors. Furthermore, its plastic construction contributes to its light weight feel, but it doesn't mean it's a flimsy thing, as the headband can flex into extreme positions.
Even though the ear cups of the DJ Slims can be lengthened, it doesn't seem as though it's sufficient enough to fit those with, you know, larger sized heads. And if you happen to fit that particular category, there's a bit of compression felt as it's worn, seeing that they have a tendency to flex inwards. Thinking differently yet again, they employ squarish shaped ear cushions, as opposed to oval ones to fit the contours of our ears. Thankfully,
they articulate and have proper padding
to make them feel comfortable.