LG Sentio Review
10

Introduction:
T-Mobile is the last major wireless carrier in the country to embrace LG, but fortunately the time is finally here nonetheless as the
LG Sentio
aims to be one of their auspicious launch handsets. We've seen how the Korean based manufacturer has some flagship series handsets in the repertoire with the other big three carriers – such as the Rumor, enV, and Shine line of phones. Although LG is launching a couple of other basic flip phones for T-Mobile, the LG Sentio is looking to pack a substantial punch – considering it's a touchscreen offering. We'll see if this handset can hang with some similar offerings that have cemented their place in T-Mobile's feature phone lineup.
The package contains:
• LG Sentio
• Wall Charger
• microUSB Cable
• Hands-free headset
• Start Guide
Design:
LG is no stranger in crafting some fantastic and sometimes futuristic handset designs, but unfortunately the design of the LG Sentio is rather too ordinary – much like other similar offerings currently available like the T-Mobile Tap and Samsung Highlight. The candybar handset is exquisitely light weight (3.3 oz) and compact thanks to its small footprint and plastic construction, but the addition of the soft touch coating throughout the handset does make it very comfortable to hold. We'd imagine that the handset would be able to repel some of the damage that accompanies normal wear and tear, but there is no arguing that the handset feels a bit brittle due to its dainty design.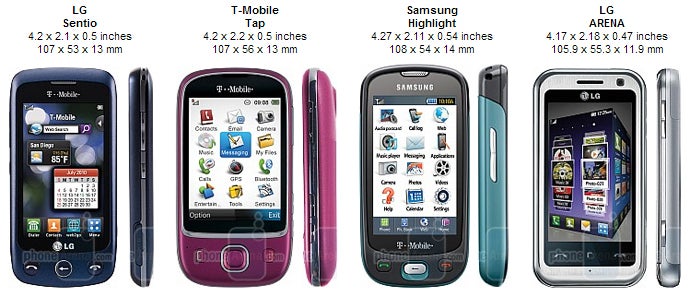 You can compare the LG Sentio with many other phones using our
Size Visualization Tool
.
With a fitting
3" touchscreen
on board with a resolution of 240 x 400 pixels and support for 262k colors, the size is more than adequate to distinguish text, but we find colors to be somewhat washed out looking. However, the resistive touchscreen requires you to firmly press down on the display to accurately register a touch. As we used the handset outdoors in direct sunlight, we found it very difficult to view without shielding it away from the glare of the sun.
The three dedicated circular buttons on the front of the handset are well sized with a springy feel with them, however, the other buttons on the sides of the handset are much smaller and difficult to make out with a finger. Despite this shortcoming, they had a decent tactile response when pressed down. As much as we're happy to see a microUSB port on board for charging and data connection, it's a pain that it doesn't offer a dedicated 3.5mm headset jack, but luckily the phone package includes a pair of stereo headphones. Flipping over to the rear, you'll find the 3-megapixel camera in the upper left corner by itself as the main speaker on the front is the sole one on board. Removing the back cover will get you access to the battery, SIM card slot, and microSD card slot.
LG Sentio 360 Degrees View: Recommended Stories