Jabra TALK Review
1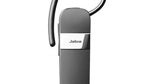 Introduction:
Not everyone requires a fancy-schmancy or feature rich Bluetooth headset to get by, but rather, some would simply prefer a more humble offering to chit-chat with another person – while still being relatively easy on the wallet. Well people, the
Jabra TALK
is aiming to be just that device, as it's sporting an easy to swallow price tag of only $29.99. Certainly, it doesn't have an extensive features list, but let's cross our fingers in hopes that it can get us to do what we all do naturally – talk!
Design:
Giving it a good look up and down, there's no hiding the fact that it's pretty much ordinary looking with its design. For the price and all, we can't expect a whole lot in this segment, but at least it's sporting a sleek profile design to remain somewhat favorable in our books. Donning an all-plastic body, combined with some chrome elements, it flaunts a mostly clean looking appearance – though, the chrome accents tend to exhibit smudges more. Lightweight by nature thanks primarily to its choice of materials, we don't notice it much as we're wearing it on our ear. Additionally, the ear loop aids in keeping it snug on our ear, while the earpiece can tend to feel a bit irritating during prolong usage.
Placing our attention on the
main façade
of the headset, the microphone is perched on the usual spot towards the one edge, while the multi-function button is discretely a part of the lower plastic piece. Pressing down on it will either pickup/end a phone call, whereas long pressing will execute a redial.
Towards the
backside
of the Jabra TALK, there's a microUSB port to charge its internal battery and an easy to move power switch. Within close proximity to the earpiece, there are actually two icons that hide away LED lights to indicate its Bluetooth connection and power status. Lastly, adjusting the volume on the headset is a breeze, since it has a distinct feel and response.
Recommended Stories