Huawei Watch GT 2e review
6
We may earn a commission if you make a purchase from the links on this page.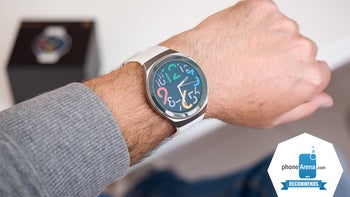 We'd have to ping Huawei about the exact meaning of the "e" in its new Watch GT 2e wearable name but, judging from our experience with the smartwatch so far, it may very well stand for "excellent". The company says it may stand for "energy and vitality," and, indeed, the timepiece does have sportier looks and feel on the wrist.
A worthy design upgrade from its predecessor, the Watch GT 2e carries over the same great features like an impressive two-week battery life, big and bright touchscreen, automatic activity and sleep tracking, as well as health features like a pulse- and SpO2 oximeter.
Granted, it omits GT 2's speaker for Bluetooth calling, but feels a bit more comfortable to wear, has greatly improved navigation ergonomics, and, last but not least, looks cool on the wrist, making it one of the best smartwatches you can buy, and not only in its sub-$200 club.
Huawei Watch GT 2e vs GT 2 design and display
Sporty ergonomics
Unlike its high crown-ed GT 2 predecessor, the Huawei Watch GT 2e uses two rectangular buttons for quick launch and selection, and we can only thank the company that it has listened to the GT 2 users.
When we went to the gym with the GT 2, the tall round crowns oftentimes got inadvertently pressed by the back of our hand, pausing the session counters for prolonged stretches of time unless we were careful about it.
With the "e" model, however, this is a non-issue, as the big rectangular buttons sit lower, and the pressing force is distributed over a larger surface, so they can be pressed in only deliberately. As before, you can program their default actions of launching your options or activity tracking menus.
The other big change Huawei made is introducing a sporty elegance, removing the numbers and scales engraved on the ceramic bezel that make the GT2 carry the action looks but can look a bit busy. The flatter bezel makes the new "edition" Watch grow a bit in size - 46.8mm vs 46mm - but brings with it more uninterrupted looks. This design uniformity is augmented by a unibody design that integrates not only the dial, but the straps as well, creating one seamless piece of 316L grade stainless steel gear with sandblasted surface.
We have to admit that the unibody way is the way to go when we compared how the Watch GT 2e feels on our wrist against the GT 2. Despite that it's slightly larger, it wraps around more comfortably, making it less visible when worn throughout the day, and especially the night where it did its sleep tracking duties. The integrated, unibody approach, and the new buttons make for one overall very ergonomic to wear watch despite that it may be on the largish side for, say, a girl's hand.
On the other hand (see what we did there), the GT 2e sportier and more youthful character is emphasized by comfortable silicone straps in colors like Mint Green Lava Red, so pick your poison. Thankfully, the more neutral Icy White and Graphite Black are always an option, though we have to admit we dig the green, too.
Moving on to the large, pretty 1.39" OLED screen, it is bright, responsive, and very easy to use, offsetting the need to touch any buttons unless you want to quickly reach something. Turning your wrist towards your eyes turns on the screen, too, and you can choose from over a 100 of watch faces to spruce the home screen up, and counting. Swipe left for your pulse, up to read your notifications, swipe down for frequently used options, or keep swiping right for weather, music controls and various reports - easy peasy.
Huawei Watch GT 2e health features - a wrist oximeter amidst a coronavirus pandemic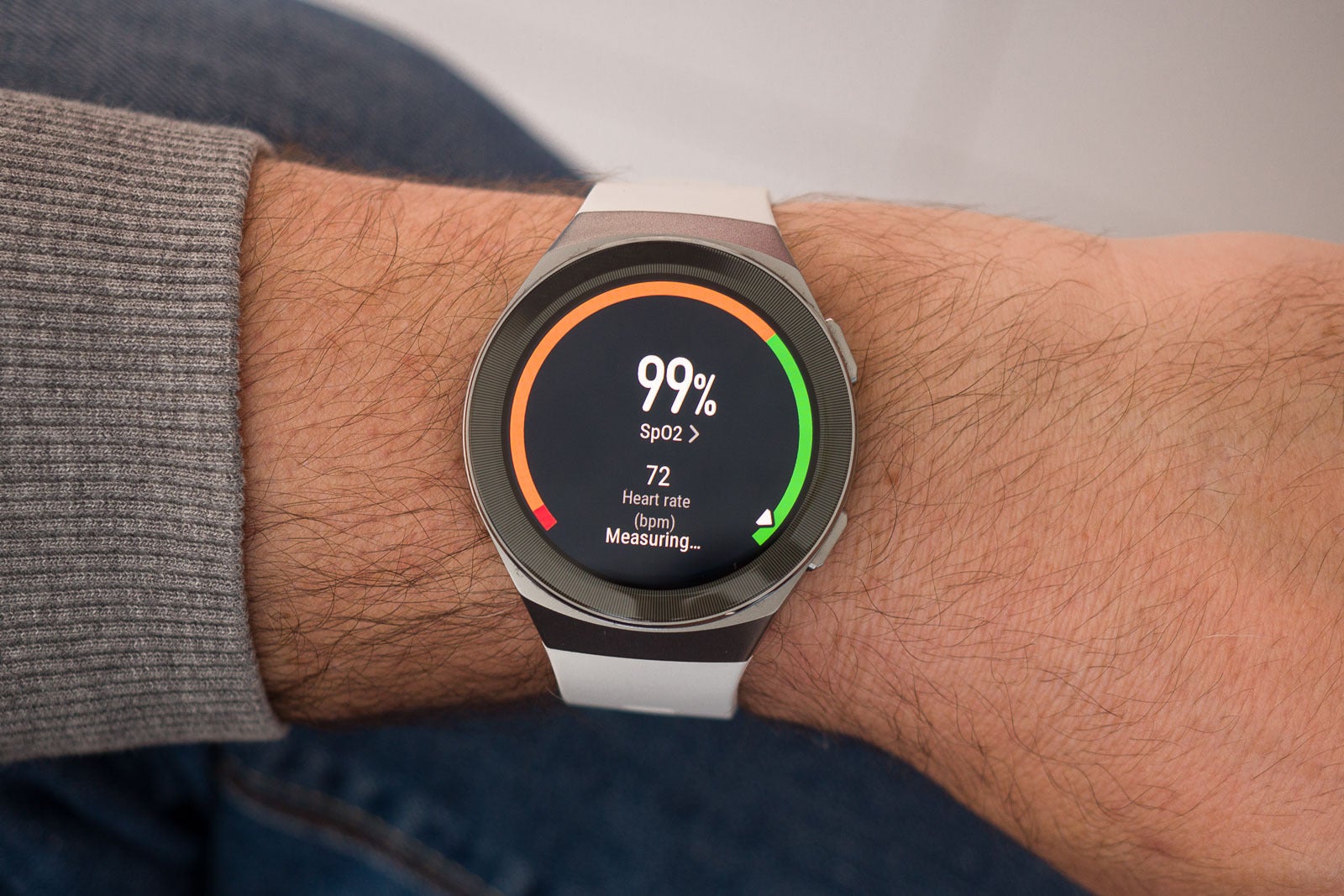 The Huawei Watch GT 2e pulse oximeter in action
From а pulse meter, through an oximeter to VO2Max activity reports, Huawei has plenty of sensors to cover all the basics and then some. While the optical heart rate monitor and the VO2Max readings work as advertised, the oximeter is what's all the rage now.
The pulse meter can be set to monitor your heart in real time, yet in a battery-saving mode, and the stats include min/max heart rate for the day so far, as well as alerts it goes dangerously low or high. The VO2 max aka maximal oxygen consumption metric is a bit on the generous side after exertion, compared to measurements in a professional setting, but as long as you know that, the numbers are pretty credible.
Now, off to the big question - can the SpO2 oximeter work reliably? In short, yes, we compared with a finger one you can get from the pharmacy, and the results were pretty commensurate down to the percentage point. Granted, the measurements were done under moderate exertion and slightly above sea level, where the numbers of a healthy adult are supposed to be 95-100% anyway, and we didn't notice deviations.
You may have heard, but oxygen saturation is one of the indicators that your lungs may be giving up the ghost amidst the coronavirus pandemic. While doctors are trained to immediately put you on oxygen or worse, on a ventilator after a certain threshold is reached, for coronavirus patients that number seems to be much lower than usual. According to emergency physician Dr Richard Levitan in a
New York Times op-ed
:
A vast majority of Covid pneumonia patients I met had remarkably low oxygen saturations at triage — seemingly incompatible with life — but they were using their cellphones as we put them on monitors. Although breathing fast, they had relatively minimal apparent distress, despite dangerously low oxygen levels and terrible pneumonia on chest X-rays... Normal oxygen saturation for most persons at sea level is 94 percent to 100 percent; Covid pneumonia patients I saw had oxygen saturations as low as 50 percent...
All patients who have tested positive for the coronavirus should have pulse oximetry monitoring for two weeks, the period during which Covid pneumonia typically develops. All persons with cough, fatigue and fevers should also have pulse oximeter monitoring...
While we won't get into the mechanics of this phenomenon, Dr Levitan's recommendations are to use simple pulse oximeters when available for a more complete picture of the disease progressing. The Huawei Watch GT 2e and any other wearable that has SpO2 function, can help with that. A feature that almost nobody but athletes bothered with before, is now becoming mainstream, and this is just one of the advantages of multifunction health and fitness tracking that we can do with the wearable that is always with us.
Huawei Watch GT 2e sleep and fitness activity tracking
This one is for runners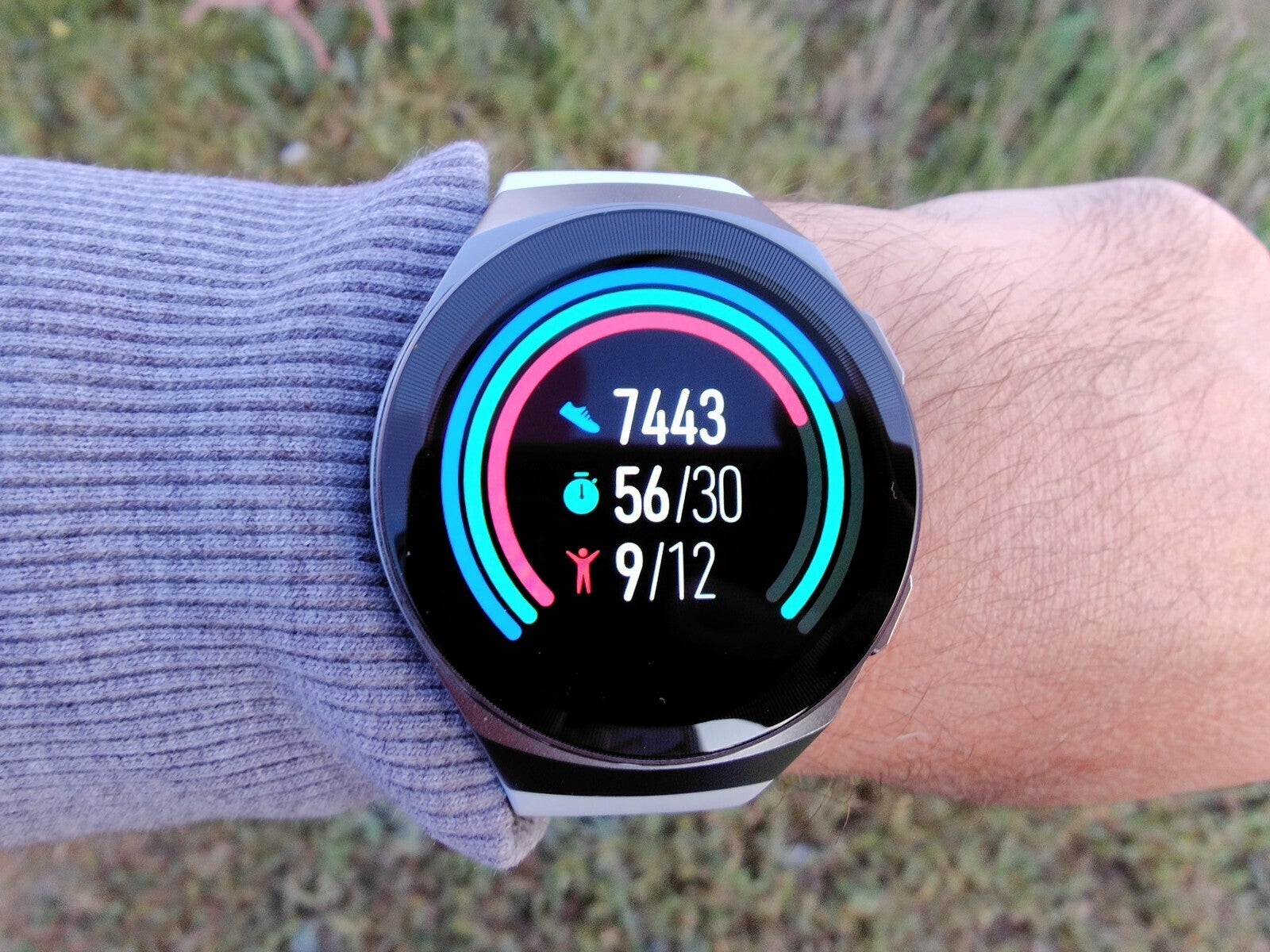 Gotta fill them all
The Watch GT 2e supports the same smart tracking for 15 professional workout modes, eight outdoor (running, walking, climbing, hiking, trail running, cycling, open water swimming and triathlon), and seven indoor (walking, running, cycling, pool swimming, free training, elliptical machine and rowing machine), just like the GT 2. There is underwater pulse monitoring now, which we couldn't check on account of pools being closed, but we've done swim tracking with the GT 2e predecessor, and it works like a charm.
It can, however, now track another 85 types of sports in six categories, including extreme, leisure, aquatics, fitness, ball game and winter sports, such as hip-hop, rock climbing, parkour, skateboarding, surfing, tennis and baseball, for a total of no less than 100 activities. These could be coming to the GT 2 with an update, too, so don't pout.
Running is the big differentiator here, as that's probably what people use their fitness watch most for. With no less than 13 running modes, yours is up for the taking, whether it is a quick HIIT session, or a MAF180 formula. The automatic tracking comes in handy, too, as soon as you start moving briskly.
With the built in GPS/Glonass function, the watch tracks your route very accurately, and alerts you each mile or kilometre you've covered. Upon completion, stats like cadence, average pace and stride, elevation difference, heart rate zones, training effect and, last but not least, expected recovery time, are all yours.
All that info can be tracked and viewed in the accompanying Health app, too, which in terms of aesthetics is above the Fitbit app, for instance, especially in the sleep tracking section with its dark mode looks.
While the Fitbit and the Health app gave different deep/light sleep distributions, they were largely spot on when it came to sleep soundness and overall duration, making the Watch GT 2e a valuable tool for good night's sleep tracking. Coupled with the stress monitor that gives you scores throughout the day, you can monitor and adjust your response to situations life throws at you easier.
The only gripe we have is that if you are sitting still and reading in the morning, for instance, sometimes the watch counts you as still in light or REM sleep, most likely on account of the immobility and the lower than usual heart rate.
Huawei Watch GT2e battery life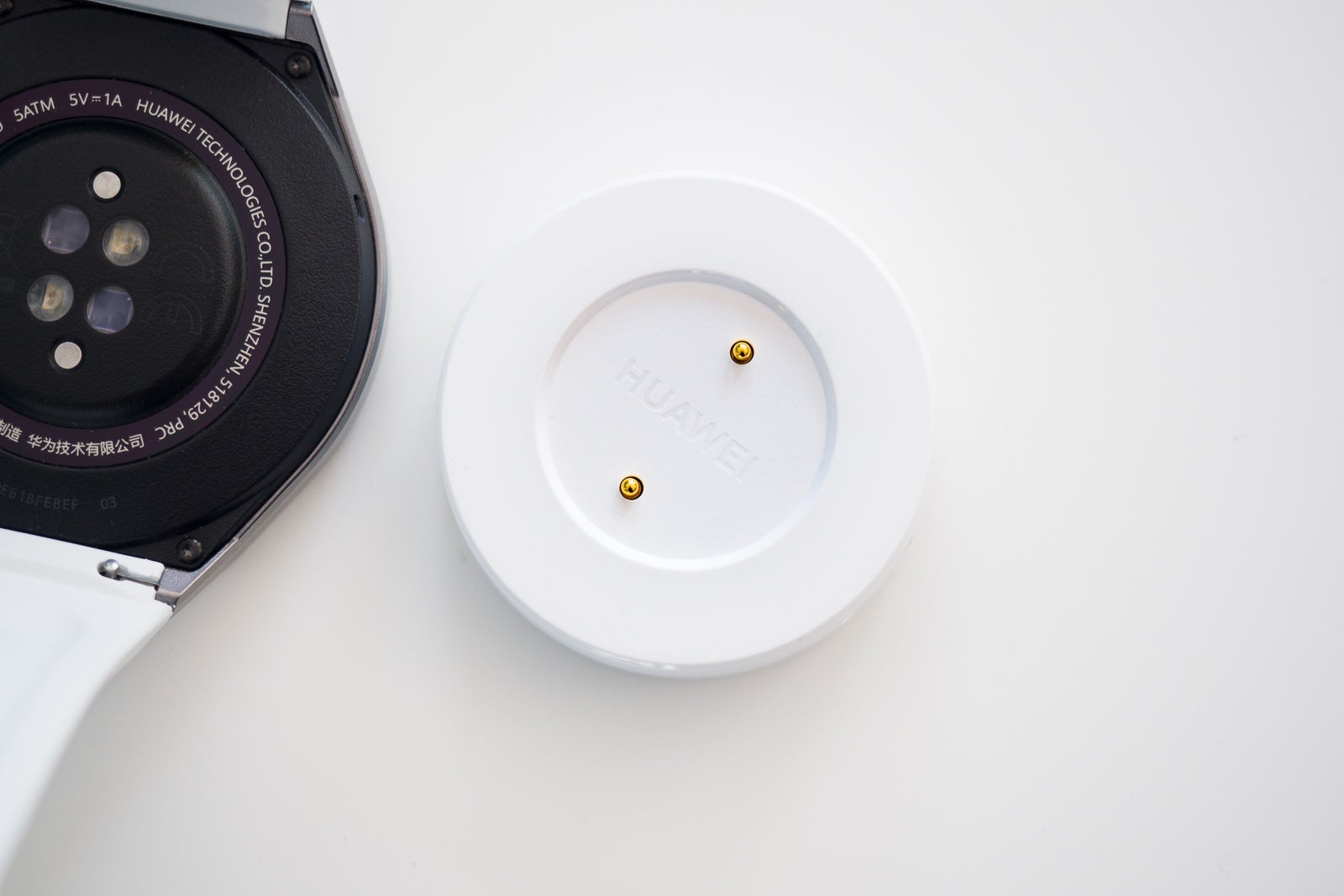 The Huawei Watch GT2e battery charging 'puck' takes less than an hour to fully charge it for the next two weeks
In short - "e" is for excellent again. With the large, 455mAh battery, the frugal Kirin A1 processor, and the power-sipping OLED display, this thing lasts as long as the company's humble fitness bracelets, all the while it does and aids much more. We clocked 7%-10% battery discharge per day, which with all systems like real-time sleep and activity tracking or pulse rating on, is a very impressive result.
There was only one sweet problem - we usually forgot when we last charged the watch, but it can carry you through a whole day even after the low battery warning, so no biggie. Huawei's magnetic charging "puck" tops it off in no time, too, whether from the outlet, or your laptop port, with any USB-C cable, and you are good to go for another 10-14 days at a time.
If you are willing to give up an abundance of apps that you may never use on wearables like the Apple Watch, you'd really appreciate a watch that does most everything you might need from one, and still can make you forget when was the last time you charged it. Sorry, Android Wear, proprietary chips and operating systems like those that Huawei and Samsung went with, are so far proving far more suited for churning our great smartwatches.


Recommended Stories