BLU Vivo XL Review
19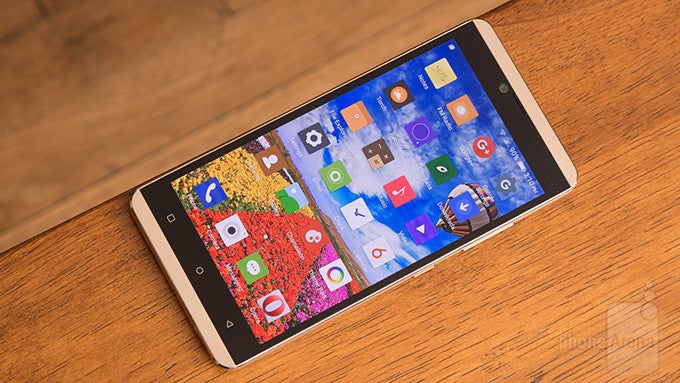 Introduction
A breakout year for the company, Miami-based BLU left its mark in the mobile space throughout 2015, but 'it's wasting no time in directing its momentum. In fact, it announced not one, but two new affordably priced smartphones that don't sacrifice in style during CES 2016.
We're checking out the cheaper of the two, the
BLU Vivo XL
, which chimes in with a devilishly hard-to-resist starting price of $149.00. Visually appealing from head-to-toe, it's undeniably fabulous that its design is a central focus, but let's cross our fingers that other aspects of the phone aren't compromised.
The package contains:
BLU Vivo XL
Wall Charger
USB Type-C to USB Type-A cable
Stereo headphones
Silicone case
Screen protector
User guide
Design
If this is what we can expect from a sub-$150 phone, we have higher expectations from the competition.
BLU doesn't disappoint with the Vivo XL, thanks in part to balancing the combination of having a slick design, svelte construction (0.3in/7.5mm), and lightweight figure (5.4oz/152 g). Honestly, it's almost unfathomable to believe 'everything has been crammed in such a thin, compact body.
What draws us in the most to the phone's design is the mirrored finish of its rear casing. It's highly reflective and makes for a great mirror for those quick peeks of yourself, while a stitching pattern accentuates the Vivo XL's premium-esque looks. Specifically, BLU refers to the finish as liquid metal, but in reality, it's far from metal – more like a glossy plastic coating that covers everything.
Even though it seems like BLU emphasizes on design above everything else, there's still utility in mind – evident in the fact that the phone features a removable battery, dual-SIM slots, and a microSD slot. What's most striking, though, is that a USB Type-C 2.0 port is present on the Vivo XL, ensuring that it's up to snuff with the times.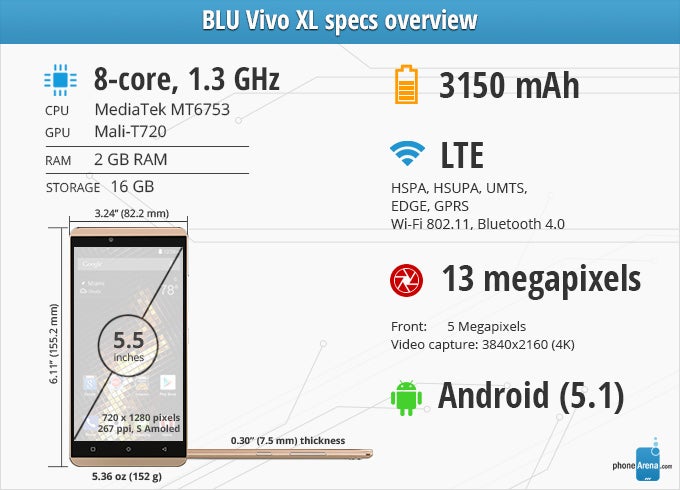 Display
It's a throwback to the AMOLED screens of yesterday; super saturation and a weak brightness output.
In complementing its dazzling aesthetics, the 5.5-inch 720 x 1280 Super AMOLED display with Gorilla Glass 3 is absolute in garnering attention with its iridescent glow, over-saturated colors, wide viewing angles, and the typical deep black that AMOLED screens are known for producing. This, from what we can gather, embodies all of the typical characteristics of the technology.
While Samsung has perfected the technology, the one used by BLU here harkens back to the AMOLED screens of old. For example, it washes out and fades under direct sun due to its feeble peak luminance of 289 nits. And other qualities about it indicate an inferior screen here, like its colder ~8000K color temperature and over-saturated, unrealistic color reproduction. You know it's representative of AMOLED technology of the past, due to the amount of saturation produced by it – such as in how yellows appear greenish and teal leans on the bluish side.
Display measurements and quality