Best Galaxy S23 Vodafone deals in February 2023
We may earn a commission if you make a purchase from the links on this page.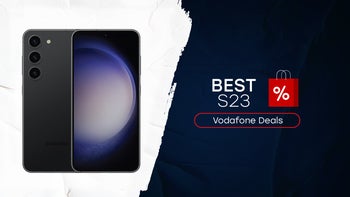 Samsung's
Galaxy S23 phones
are hot off the presses and ready for your pre-orders. With fantastic cameras, beautiful screens, top-tier performance, and a fleshed out ecosystem around them, they are often seen as the mainstream Android smartphone, despite the Google having its own Pixel line.
But with all these niceties, comes a premium price. So, it's often easier to swallow that pill if you grab a phone plan from a carrier whenever your contract is up for renewal.
And Vodafone, being one of the largest mobile providers in the UK, is one vendor you should be looking at. With a 4G coverage blanketing 99% of the UK and a steady rollout of 5G connectivity, flexible plans, loyalty benefits, and extended warranties, it makes sense to keep an eye on
Vodafone UK phone deals
.
Vodafone often has new offers — almost monthly, some of the phones that the carrier sells can be discounted or they can be paired with a rather generous data plan for a lower subscription cost. While you can buy a device outright, most often the deals are tied to two-year contracts.
If your specific model of choice doesn't have a deal running right now, you may also check if the carrier has it in pre-owned condition. These are listed at the bottom of the phones page on the Vodafone website, with the moniker (Like new) next to them.
Vodafone benefits when buying a Galaxy S23
Battery Refresh:
if your Galaxy needs a battery replacement within three years from when you first bought it, Vodafone will cover that. It's handled through a Battery Refresh tool within the My Vodafone app.
Total Care Warranty:
a two-year warranty, which covers for any manufacturing defects and repairs.
Vodafone Galaxy S23 Ultra deals
The pre-order stage is over, so the free upgrade deals are now off the table. However, Vodafone is still running an enhanced trade-in program, which can get you up to £504 off the Ultra's price-tag. The usual 6 months of Disney+ gift also applies!
Vodafone Galaxy S23+ deals
The
Galaxy S23+
is for those that want the big Samsung phone experience but don't care to pay the premium that the Ultra demands. It will also net you the Disney+ gift and can also be had for a lowered price if you have the right device to trade-in.
Vodafone Galaxy S23 deals
The smallest
Galaxy S23
is as powerful as its bigger siblings and has pretty impressive cameras to boot. If we are to suggest something here, we'd say — use that trade-in discount to buy yourself the 256 GB storage version of the Galaxy S23. Not just for the space — it's actually a faster storage chip (twice as fast, that is).
Are Vodafone Galaxy S23 deals worth it?
Yes, especially if you need a nice work laptop right now! The Galaxy Chromebooks are nice for text work or studying. Plus, the Airtime discounts with the Galaxy S23 are a great added value!
Can I claim free earbuds with Galaxy S23 on Vodafone?
Sometimes, we see such offers. However, right now, the pre-order promotions do not include free Galaxy Buds. It can be argued that the storage upgrades are better value, especially for the base S23. But stick around, we will follow Vodafone's offers month to month — free Buds are bound to pop up!