Serious bug shows why only developers should install Android 14 DP1
3
As we told you the other day,
Google
has started walking down the path that leads to the release of Android 14 by dropping Android 14 Developer Preview 1. While the Beta releases aren't for everyone because they are unstable, you shouldn't even consider installing the Developer Previews unless you are an Android Developer. That's because many features are apt to be down or not working right when running the Developer Preview or early Beta releases.
For example,
Android Police
heard from someone who installed Android 14 DP1 on his compatible Pixel phone and every time he tried to make a call on the device, it crashed. Other Pixel users who installed Android 14 DP1 noticed some changes from Android 13. The Adaptive Battery toggle, which currently is hosted with Adaptive Charging under the Adaptive preferences page (go to
Settings
>
Battery
) , is moved in Android 14 DP1 according to a Pixel 6 user who posted about this on
Reddit
.
In the first Developer Preview release for Android 14, Adaptive Charging, which extends the lifespan of your phone's battery, is the only option left under Adaptive preferences. This feature helps to extend the lifespan of your phone's battery by trickle charging it from 80% to 100% so it will be fully charged by the time you are ready to take it off the charger. Adaptive Battery learns your app usage and optimizes your apps. In Android 14 DP1, this feature is found on the Battery Saver page (
Settings
>
Battery
>
Battery Saver
) and is disabled by default.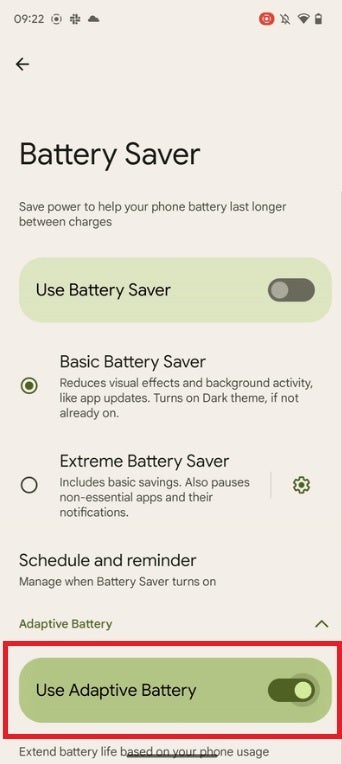 Adaptive Battery gets a new home in Android 14 DP1
Another Reddit user posting in the same thread says that when Adaptive Battery is enabled in Android 14 DP1, it is disabled when you leave the setting and return to the toggle. Now obviously that is not going to continue being the case and by the time the stable version of Android 14 is released, users should be able to enable Adaptive Battery by toggling on the feature which should stay enabled.

In March, Google will release Android 14 DP2 and that will be followed by the first Android 14 Beta in April. The Beta releases should continue through July with the release of the stable version of Android 14 taking place in August.