Motorola announces its first jab at a business-centric phone: the Lenovo ThinkPhone
9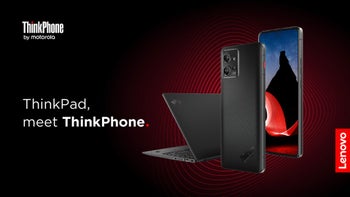 It is not every day that a phone manufacturer decides to add a brand new type of phone to its repertoire of yearly releases, but that is exactly what
Motorola
and Lenovo are doing with the upcoming Lenovo ThinkPhone. Just in case you are a bit confused why these two are working together, Motorola has been a subsidiary of Lenovo ever since 2014.
The Think-branded devices that Lenovo has been producing throughout the years are well known for being niche products aimed at satisfying specific work and business needs. They are usually made in a way that is convenient for companies to buy, distribute, and control, which is why you might often see ThinkPads as the default business laptop that companies give out to their employees.
But let's get to the more important topic at hand here, which is the ThinkPhone itself. This is a phone that, just like the rest of the Think-branded products, is aimed at businesses, as it is specifically adapted for office-work related tasks and is meant to create a seamless workflow with Windows-powered machines. It also comes with a myriad of security features to keep sensitive information away from potential malicious parties, which is essential for business devices.
The Lenovo ThinkPhone specs at a glance:
Operating System

Android 13

Processor
Snapdragon 8+ Gen 1
Memory (RAM)
Storage
Battery
5000mAh
Weight and dimensions

Weight: 188.5g
Dimensions: 158.76mm x 74.38mm x 8.26mm

Charging

Wired: 68W TurboPower
Wireless: 15W

Camera system

Main camera: 50MP, f/1.8 aperture, OIS
Ultra-wide camera: 13MP (120° FOV), Macro Vision, f/2.2 aperture
Front-facing camera: 32MP, autofocus, f/2.45 aperture

Connectivity
Speakers
Dual stereo speakers with Dolby Atmos
Colors
Carbon Black
This is what the ThinkPhone brings to the table
You can basically split the most important aspects that make up Motorola and Lenovo's ThinkPhone into two main categories: productivity and security. When combined together, the two make for — at least on paper — a very capable phone that can satisfy most needs both for the employer and employee at a given company.
Powerful productivity
Let's start with arguably the more impressive part that makes the ThinkPhone special, which is its special integration with Lenovo's ThinkPad laptops. It all revolves around the, as Motorola has dubbed it, Think 2 Think connectivity powered by Ready For.
This is a suite of productivity experiences that include the following functionalities:
Instant Connect

: the phone and PC can instantly discover and connect when close to each other and on the same WiFi network.

Unified Clipboard

: easily copy-paste text or recent photos, scanned documents and videos between devices.

Unified Notifications

: phone notifications simultaneously appear on the phone and the Windows Action Center. Clicking a notification automatically launches the corresponding phone app on the PC's screen.

File Drop

: drag and drop files between ThinkPhone and PC.

App Streaming

: open any Android application directly on a PC.

Advanced Webcam

: use the ThinkPhone cameras as your webcam for video calls.
Motorola states that it is working with the likes of Microsoft, and has managed to sweeten the deal of its upcoming specialized phone with the addition of Microsoft 365, Outlook, and Teams mobile preloaded.
The two companies are also developing future features, such as adding push-to-talk functionality to the ThinkPhone's red customizable key, which you can find on the left side of the phone. With the new feature, users will be able to use the button while in the Walkie Talkie app through Microsoft Teams. Even more exciting, however, is that the combo is working on a way to directly stream your Windows desktop onto your ThinkPhone and control it from there!
This productivity-centered mindset trickles down to the ThinkPhone's hardware. It comes with Qualcomm's Snapdragon 8+ Gen 1 flagship chipset, which should be able to take care of all the intensive work-related tasks you throw at the phone. There is 5G Support, but more importantly Wi-Fi 6E support, which is the latest and most advanced standard for WiFi connectivity.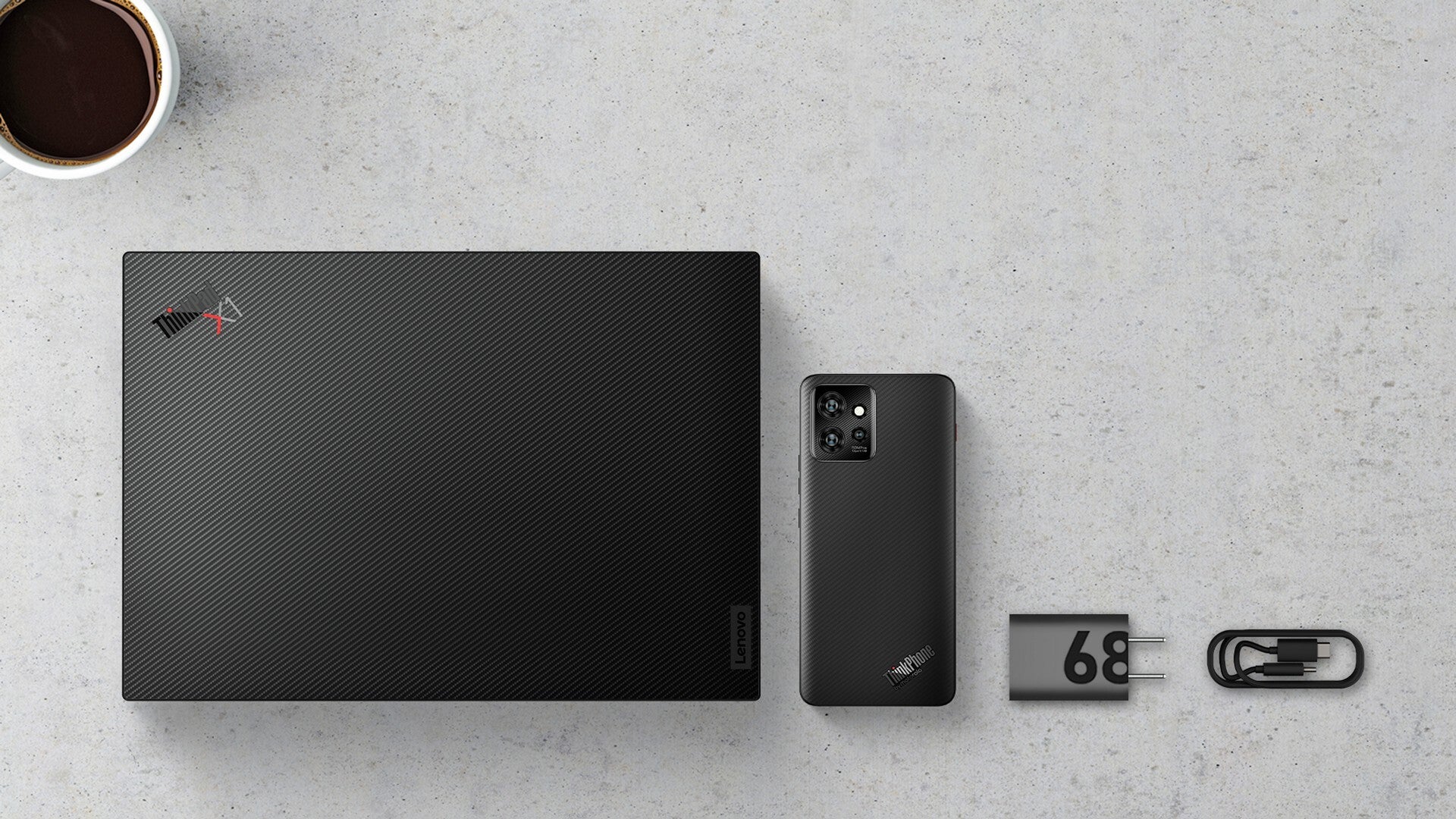 Lenovo ThinkPhone, its 68W power adapter, and the ThinkPad X1 Carbon Gen 11.
You won't have to be constantly tethered to a power outlet either, if Motorola's claim of 36 hours is to be believed. Of course, your mileage will vary, but even 24 hours should be enough for a regular work day. Additionally, you get a 68W fast charger included in the box, which can supposedly charge the phone to 100% in 15 minutes, and juice up your laptop too!
Motorola has told PhoneArena that the ThinkPhone will get 4 years of security updates, however, we don't yet have information about the number of major OS updates. That being said, it is likely it would be 3 years.
High-level security and durability
Motorola has also focused on delivering a durable and highly secure phone with the ThinkPhone, which immediately starts showing when you consider its MIL STD 810H certification. Basically, this means that the device is super tough, and that is thanks to its aircraft-grade aluminum frame, very lightweight aramid fiber back (stronger than steel), and Gorilla Glass Victus protecting the display. The company claims that the ThinkPhone can withstand drops from up to 1.25 meters. There is also IP68 water and dust certification, which means the phone can be submerged in depths of up to 1.5 meters for as long as 30 minutes.
Moving on to the software side of things, the Lenovo ThinkPhone comes with support for ThinkShield, which is Lenovo's security platform. It comes with A.I.-empowered security solutions such as Moto Threat Defence.
What's more, employers have the ability to easily manage the entire fleet of purchased ThinkPhones thanks to Zero Touch, which delivers services like Moto OEMConfig and Moto Device Manager.
If you think that's not enough, though, there is more! Moto Secure is an app that comes with the Lenovo ThinkPhone that, in conjunction with Moto OEMConfig or Moto Device Manager, can be used by administrators to remotely configure lock screen settings, network alerts, and more.
Last but not least, there is an extra layer of security in the form of Moto KeySafe, which is a completely separate processor tasked with protecting highly sensitive data like passwords, documents, etc.
Lenovo ThinkPhone availability
The Lenovo ThinkPhone will be available in the US, Europe, Latin America, Middle East, Australia and select countries across Asia in the next few months. As for the price, right now we still don't know what it will be, but that should become more clear the closer we get to the release date.